Main content start
Rocco YIM Sen Kee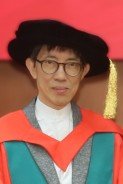 188th
Congregation
(2013)
Rocco YIM Sen Kee
Doctor of Social Sciences
honoris causa
Mr Rocco Yim Sen Kee is an award-winning internationally renowned architect.
He was born and educated in Hong Kong. After graduating from the University of Hong Kong he joined the firm of Spence Robinson for two years before starting his own practice in 1979, which eventually evolved into a partnership with Messrs Patrick P W Lee and Bernard M B Hui in 1982.

Since winning a First Prize Award for the L'Opéra de la Bastille international competition in 1983, his works have consistently been awarded both in Hong Kong and overseas. Recent accolades include ARCASIA Gold Medals in 1994 and 2003, Chicago Athenaeum Architectural Awards in 2006 and 2011, the Kenneth F Brown Award in 2007 and he was a category winner in the 2010 World Architecture Festival category.
Mr Yim is a regular invited speaker in local and international symposia. His works have been published in various regional and global journals, and have been exhibited four times in the Venice Biennale over the last decade.
He is currently on the Advisory Council for the HKU Department of Architecture, an Adjunct Professor in HKU SPACE, a Museum Adviser to the Leisure and Cultural Services Department and a Member of the International Artist Fellowships Council of International Advisors for the University of Southern California. His work was published in The City in Architecture in 2003, Being Chinese in Architecture in 2004 and Presence in 2012. A new monograph Reconnecting Cultures will be published in early 2013.
In recognition of his contributions to architecture and society, the University has resolved to confer upon him the degree of Doctor of Social Sciences honoris causa.