Main content start
Honorary Degrees: The University's Premier Tribute
Honorary Degrees: The University's Premier Tribute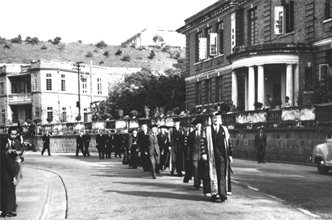 The University's honorary degree is the highest accolade it can bestow on an individual, and is also one of its oldest and most cherished traditions.
The honorary degree is awarded to individuals who have made valuable contributions to the world or to humanity, and also to those who have made significant contributions to academia, Hong Kong or the University.
These distinguished individuals may be awarded one of five types of honorary degrees: Doctor of Laws honoris causa, Doctor of Letters honoris causa, Doctor of Science honoris causa, Doctor of Divinity honoris causa, and Doctor of Social Sciences honoris causa.
Past recipients of the University's honorary degrees include Dr Yao Ming, Professor Sir Charles Kao Kuen, Dr David Ho Da I, Dr Nelson Mandela, Mother Teresa, Professor Jao Tsung I and Dr Hu Shih.