Main content start
Rocco YIM Sen Kee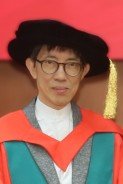 188th
Congregation
(2013)
Rocco YIM Sen Kee
Doctor of Social Sciences
honoris causa
Rocco Yim Sen Kee is an alumnus in whom this University can take immense pride. He is probably Hong Kong's most internationally acclaimed locally born and educated architect.
As a student at St Paul's Co-Educational College, Rocco showed considerable talent as an artist but, somewhat reluctantly, decided that he probably did not have quite the mental attributes to devote his whole life to pure art and so turned his energies to becoming an architect. Art's sad loss was architecture's joyous gain.
Having graduated from this University with a Bachelor of Arts in Architectural Studies in 1974 and a Bachelor of Architecture in 1976, Rocco joined the firm of Spence Robinson where he worked for two years. Indeed it was during this time that he participated in a small way in designing the University's Swire Hall. In 1979 he started his own practice, which eventually evolved into a partnership with Patrick Lee and Bernard Hui and later into Rocco Design Architects Ltd.
Architects exhibit their skills in designing buildings and the act of design is an act of faith. It is not a product but a process of becoming, in which the designer must believe in what he does. Rocco possesses this faith in abundance. His philosophy - which he came to put into practice with such outstanding success - is that architecture is not just an art. It is the art of problem solving which contributes to environmental and spiritual well-being. The problems involved are unique to each project and often transcend the purely functional to encompass those that are spatial, environmental or spiritual in nature.
He did not have to wait long for his first international award, which he won as one of three co-winners in 1983 in the international competition for L'Opėra de la Bastille, a new opera house, in Paris.
Rocco's local debut comprised a series of youth hostels for the Youth Hostel Association in Mong Tung Wan, Tai Mo Shan and Pak Sha O. Since then Rocco and his colleagues have designed many famous and indeed landmark buildings in Hong Kong including Citibank Plaza, iSQUARE in Tsim Sha Tsui, Hotel Icon Teaching Complex for Polytechnic University and the master blueprint of the International Finance Centre (IFC).
Rocco was also responsible for designing the famous Bamboo Pavilion for the Hong Kong-Berlin Festival in 2000, which was constructed and featured in both Berlin and on the Tamar site in Hong Kong. This was perhaps the first time that this unique form of Hong Kong art-cum-construction was introduced in the West.
He has also been extremely active on the Mainland, designing, amongst many others, the Commune in the Great Wall, the Guangdong Museum and the soon-to-be-opened Yunnan Museum.
In 2007, defeating fierce competition, Rocco's firm was awarded the tender for designing the new Government Headquarters and Legislative Council Complex on the Tamar site and Hong Kong now has a new landmark popularly known as "The Open Door", a design which, according to Rocco, celebrates Hong Kong's spirit of inclusiveness, tolerance and acceptance of cultures from different parts of the world.
His designs have consistently been recognised by prestigious awards and his more recent accolades have included ARCASIA Gold Medals in 1994 (for Lok Fu Shopping Centre) and 2003 (for Hollywood Terrace), the Chicago Athenaeum Architectural Awards in 2006 (for Guangzhou City Library) and 2011 (for I-Square), the Hong Kong Institute of Architect's Medal of the Year in 2009 and International Design Award (Silver Award) in 2010 (for Guangdong Museum), and a World Architecture Festival Category Winner in 2011 (for West Kowloon Cultural District)
Rocco has been very supportive of his alma mater by volunteering his expertise and helping to educate future architects. He has served as an Honorary Professor in the University's Department of Architecture for more than ten years and has devoted much time to organising alumni events. He has also left a lasting physical reminder on campus as the designer of Graduate House, which was completed in 1998. Graduate House provides a dormitory for 210 graduate students, an Amenities Centre for the whole student body and a Conference Centre for the public. We are very proud that Graduate House was awarded a Silver Medal for design excellence by the Hong Kong Institute of Architects.
As to his design philosophy, Rocco firmly believes that a designer of buildings has to approach from the perspective of someone who is actually going to use the site and building. Design is not just about the buildings but also the spaces between buildings such as streets, courtyards and terraces. It is the totality of these different elements that makes a place.
Asked about the attributes that make a good and successful architect, he says:
"Architects have to avoid being self-centred. You have to be concerned not just with what you do or who you are; you have to be concerned with the effects of what you are creating towards the neighbourhood and that which happens around you. The architecture you produce, in particular the empathy and sensitivity that it embodies, is ultimately a reflection of your personality".
By way of summation of the achievements of this remarkable man, Professor David Lung, our Dean of Architecture, has this to say:
"Rocco is a man of letters; his work and interests encompass not only architecture but culture in the widest sense; art, music and a love of society. He is a true humanitarian".
Mr Pro-Chancellor, it is my honour and privilege to present to you Rocco Yim Sen-kee for the award of Doctor of Social Sciences honoris causa.
Citation written and delivered by Professor Michael Wilkinson, the Public Orator of the University.