Main content start
Andrew Michael SPENCE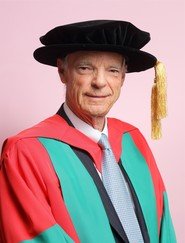 201st
Congregation
(2019)
Andrew Michael SPENCE
Doctor of Social Sciences
honoris causa
Professor Andrew Michael Spence is a Nobel Laureate in Economic Sciences, and a world authority on growth in developing countries and on the convergence between advanced and developing economies.
He is currently the Philip H Knight Professor Emeritus of Management in the Graduate School of Business at Stanford University, Professor of Economics at the Stern School of Business at New York University, Senior Fellow of the Hoover Institution at Stanford and a Distinguished Visiting Fellow of the Council on Foreign Relations.
At the University of Hong Kong, Professor Spence co-chairs the Advisory Board of the Asia Global Institute and is a Member of the AsiaGlobal Fellows Faculty Committee.
Professor Spence holds a BA in Philosophy from Princeton, graduating summa cum laude. He was awarded a Rhodes Scholarship at Oxford, where he earned an MA in Mathematics, and holds a PhD in Economics from Harvard.
From 1973 to 1975, he taught at Stanford as an Associate Professor of Economics. From 1975 to 1990, he served as Professor of Economics and Business Administration at Harvard, holding a joint appointment in the Business School and the Faculty of Arts and Sciences. In 1983, he was named Chairman of the Economics Department and George Gund Professor of Economics and Business Administration. He served as Dean of the Stanford Business School from 1990 to 1999, and Dean of the Faculty of Arts and Sciences at Harvard University from 1984 to 1990.
Professor Spence was awarded the John Kenneth Galbraith Prize for excellence in teaching and the John Bates Clark Medal for a "significant contribution to economic thought and knowledge."
In 2001, Professor Spence received the Nobel Prize in Economic Sciences for his path breaking work in the field of information economics.
He has served as the Chairman of the Independent Commission on Growth and Development created by the World Bank in 2006, and on the Board of Directors of many private companies. He was a Member of the Board of the Stanford Management Company, which manages the Stanford University endowment, and the International Chamber of Commerce Research Foundation.
In recognition of his contributions to academia and the world, the University has resolved to confer upon him the degree of Doctor of Social Sciences honoris causa.