Main content start
YAO Ming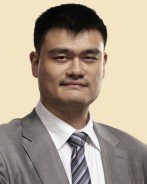 187th
Congregation
(2012)
YAO Ming
Doctor of Social Sciences
honoris causa
Mr Yao Ming is a world-famous basketball superstar, Chairman of the Shanghai Sharks Basketball Club, founder of the Yao Foundation, a Board Member and Global Ambassador for the Special Olympics movement worldwide, and a member of the Standing Committee of Shanghai Chinese People's Political Consultative Conference.
Mr Yao is a native of Shanghai and joined the national basketball team of China in 1998. He played for China at three Olympic Games, two International Basketball Federation (FIBA) World Championships, one Asian Games and three FIBA Asia Championships, leading the Chinese national team into the quarterfinals at the 2004 Athens and 2008 Beijing Olympics. He was the first non-American athlete to become a number-one draft pick in the National Basketball League (NBA) in 2002, a star player of the Houston Rockets and made the NBA's All-Star team seven times.
Mr Yao has made outstanding contributions in HIV/AIDS advocacy and has helped fight the social and cultural stigma associated with HIV/AIDS with his participation in the prevention and treatment of the disease. In 2008, Mr Yao was presented with the Award for Outstanding Contributions to the AIDS Response by UNAIDS, the Joint United Nations Programme on HIV/AIDS.
In recognition of his contributions to sport and HIV/AIDS advocacy, HKU will confer upon him the degree of Doctor of Social Sciences honoris causa.