Main content start
YAO Ming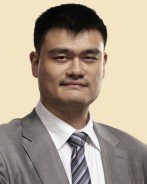 187th
Congregation
(2012)
YAO Ming
Doctor of Social Sciences
honoris causa
Yao Ming has proved himself a star both on and off the basketball court. His name and reputation are probably the most well known of any Chinese sportsman today.
Yao Ming was born in 1980 in Shanghai, already destined to become a basketball star. Both his parents were famous basketball players; both were well over six feet tall. Because of the height factor his family lived in a custom-built apartment with larger than normal door frames and wore custom made clothes and shoes. When Yao Ming was born he weighed twice the average birth weight. He grew rapidly and surpassed his parents' height when still at school. He was clearly genetically destined by nature for stardom. Nurture also played its part. His parents instilled in him a love for and understanding of the sport; he also received special nourishing food from his mother. At his twelfth birthday his parents sent him to Shanghai's provincial sports academy where he honed his skills by long practice and it was there that he reached his present height of seven feet four inches.
At the age of seventeen he joined the Shanghai Sharks playing in the national league. He immediately displayed his star qualities and in 2001 his team secured their first championship. But by now his thoughts were turning overseas. Through television he had inevitably become enraptured by the thrills and skills of the NBA league.
It was in 1998 that scouts from America first discovered him and he was invited by Nike to attend a series of basketball camps in the USA. There then began a tug-of-war for his services between the USA teams seeking his talents and his patriotic commitment to the Chinese local league and national team. Yao Ming had first been selected for the Chinese national team in 1999, which he subsequently led to three consecutive FIBA Asian Championship gold medals. In 2000 he represented China in the Sydney Olympics and it was there that his impressive performance – especially against the USA team - attracted more aggressive overseas attention.
In 2002 the China Basketball Association finally agreed to release Yao Ming and he signed for Houston Rockets, becoming the first number one draft pick to come from the ranks of international recruits.
His prestigious record with the Houston Rockets is well known. His nice-guy attitude and easy smile, combined with his immense height and lantern jaw prompted the popular press to nickname him "the Gentle Giant". During his NBA career he was selected to play for the Western Conference eight times; was named in the NBA All-Star team seven times and reached the NBA play-offs on four occasions. His image was in great demand for corporate advertising and his name and face was associated with Apple Computers, Visa Card, Nike, Reebok, Pepsi, Coca-Cola and McDonalds.
But he never forgot his loyalty to his motherland. He returned home on several occasions to represent the national team and at the opening of the 2004 Olympic Games in Greece he was his country's proud flag bearer. His final Olympic appearance was, perhaps symbolically, at the Beijing Games in which he carried the Olympic flame into Tiananmen Square and, for a second time, he carried his country's flag during the spectacular opening ceremony.
Alas, his large frame was – perhaps inevitably – wracked with injuries to his feet and knee which, despite several bouts of surgery, eventually put a premature end to his remarkable career. In 2011 Yao Ming announced at a press conference in Shanghai (from an extra-high lectern) his retirement from basketball.
There can be no doubt that his achievements on the basketball court both raised public awareness of basketball in China and greatly assisted in the development of the sport on the Mainland.
His early basketball career as a rookie has been documented in a film called "The Year of the Yao" and he has co-written an autobiography entitled "Yao: A Life in Two Worlds". Since retirement he has not totally divorced himself from basketball since in 2009 he purchased his former club team, the Shanghai Sharks, which was on the verge of dissolution due to financial problems.
Mr Chancellor, Yao Ming has made all of us very proud of his contribution as an outstanding sportsman. But he has done much more. He has at the same time dedicated himself, with his usual passion and energy, to outstanding charitable works.
Throughout his career Yao participated in many charity and community events including the "Basketball Without Borders" programme and the hosting of a telethon which raised US$300,000 to help prevent the spread of SARS. He also participated in charity basketball matches to raise funds for underprivileged children in China.
Perhaps most noteworthy is his establishment of the Yao Ming Foundation in 2008 to help the lives of children in China and the USA. It has already proved to be of immense importance. For example, after the Sichuan earthquake in 2008 the Foundation donated US$2 million for relief work to help rebuild schools destroyed in the earthquake.
Yao Ming has also displayed his passion for humanity in the area of HIV/AIDS. He has appeared with fellow basketball star Magic Johnson in commercials to support the prevention and treatment of HIV/AIDS and has taken part in various high-profile activities in the Mainland including visiting children living with the disease. He has helped fight the social and cultural stigma associated with HIV/AIDS with his positive attitude and participation in their prevention and treatment and continues to advocate action, care and the full integration of sufferers into society. In 2008 he was presented with the Award for Outstanding Contribution to the AIDS Response by UNAIDS, the Joint United Nations Programme on HIV/AIDS.
He married his long-time girlfriend and fellow basketball player Ye Li in 2007 and in 2010 their daughter Amy Yao Qinlei was born.
Yao Ming is also a keen nature conservationist. Earlier this year he began filming a documentary in Kenya about the destruction of elephants and white rhino, aimed at bringing awareness to the world, and China in particular, of the dire consequences of the illegal poaching of elephants and rhino driven by the demand for ivory and rhino horns.
Yao Ming, never resting, is now enrolled as a student at the Jiao Tong University studying finance.
Perhaps his contribution can be neatly summed up by a statement by the NBA Commissioner in response to Yao Ming's retirement:
"His dominant play and endearing demeanour, along with his extensive humanitarian efforts, have made him an international fan favourite and proven an extraordinary bridge between basketball fans in the US and China".
Mr Chancellor, it is in recognition of his contribution to sport and humanity that it is my honour and privilege to present to you Yao Ming for the degree of Doctor of Social Sciences honoris causa.

Citation written and delivered by Professor Michael Wilkinson, the Public Orator of the University.