Main content start
Victor Joseph DZAU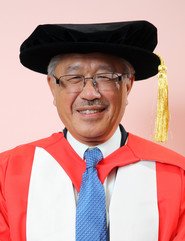 195th
Congregation
(2016)
Victor Joseph DZAU
Doctor of Science
honoris causa
Dr Victor Joseph Dzau is the President of the National Academy of Medicine, USA, formerly the Institute of Medicine (IOM). He serves as the Vice Chair of the Governing Board of the National Research Council. He is Chancellor Emeritus and James B. Duke Professor of Medicine at Duke University and the past President and CEO of the Duke University Health System.
Dr Dzau was born in Shanghai, raised in Hong Kong, and holds an MD from McGill University, Canada. He has served as the Hersey Professor and Chairman of Medicine at Harvard Medical School, as well as Chairman of Medicine at Stanford University.
Dr Dzau has made a significant impact on medicine through his seminal research in cardiovascular medicine and genetics and his leadership in health care innovation. His work contributed importantly to the contemporary understanding of cardiovascular disease and the development of widely used, lifesaving drugs. In his role as a leader in health care, Dr Dzau has led efforts in innovation to improve health, and advises governments, corporations, and universities worldwide.
Among his many honours and recognitions are the Gustav Nylin Medal from the Swedish Royal College of Medicine, the Distinguished Scientist Award from the American Heart Association, Ellis Island Medal of Honor, and the Henry Freisen International Prize. In 2014, Dr Dzau received the Public Service Medal from the President of Singapore. He is a member of the National Academy of Medicine, the American Academy of Arts and Sciences and the European Academy of Sciences and Arts. He has received eight honorary doctorates.
In recognition of his contributions to society and the world, the University has resolved to confer upon him the degree of Doctor of Science honoris causa.