Main content start
David MONG Tak Yeung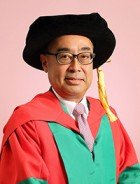 199th
Congregation
(2018)
David MONG Tak Yeung
Doctor of Social Sciences
honoris causa
Dr David Mong is the Chairman and Chief Executive Officer of the Shun Hing Group. He holds a BSc in Electrical Engineering from the University of California, Los Angeles and an MBA from Santa Clara University, California.
Dr Mong understood that while formal education was important, the value of experiential learning was also invaluable. So he worked at Panasonic Japan from 1985 to 1989 - to understand first hand the intricacies and processes of the different areas of technology and manufacturing - before joining Shun Hing Electronic Trading Co Ltd as Executive Director in 1991.
Dr Mong has a long history of supporting the education sector, and the University of Hong Kong has benefitted from his counsel and leadership as a member of its Court. As a Director of the HKU Foundation, he has offered forthright and invaluable advice to the University community. And the Prince Philip Dental Hospital has also had the benefit of his experience and expertise, as Dr Mong has served as a member of its Board of Governors.
Indeed, much of the higher education sector in Hong Kong has benefitted from Dr Mong's support, and in addition to being an HKU Honorary University Fellow, he is also an Honorary University Fellow of the Chinese University of Hong Kong, and holds Honorary Degrees from the Hong Kong Baptist University and the Hong Kong Polytechnic University.
Under Dr Mong's leadership, the Shun Hing Education and Charity Fund has become a very active philanthropic enterprise and has contributed regularly and substantially to improving the well-being of diverse sectors of society in Hong Kong, Mainland China and overseas. Dr Mong's contributions extend to public service as well, through his service on the Board of Directors of organisations that benefit, inter alia, education, medical services, sports, arts and culture, environmental protection and community service.
In recognition of his contributions to Hong Kong and academia, the University has resolved to confer upon him the degree of Doctor of Social Sciences honoris causa.