Main content start
David MONG Tak Yeung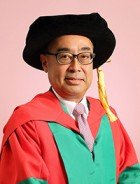 199th
Congregation
(2018)
David MONG Tak Yeung
Doctor of Social Sciences
honoris causa
Honourable Chancellor,
Dr David Mong Tak Yeung is an individual who embodies many of the very best aspects of Hong Kong. As Chairman and CEO of the Shun Hing Group, Dr David Mong is not merely one of Hong Kong's most eminent executives, but he is also an icon of international business and marketing. Dr David Mong leads Shun Hing with passion, humility, integrity, and a personal commitment to the highest standards of quality. Dr Mong's commercial acumen has been shaped not only by what he learned from his father, the late Dr William Mong, but also through his international education and vocational experiences. Dr David Mong is also a champion of corporate responsibility and philanthropy who, through generous donations of the Shun Hing Education and Charity Fund, has made Hong Kong a more culturally diverse, critically engaged, and internationally connected place - especially for our youth.
As Shun Hing has grown over the past sixty-five years they have donated handsomely to education. Students, professors, and communities in the UK, China, America, Japan, and of course Hong Kong, have received sizeable benefactions. Within all of this generosity, the University of Hong Kong has benefited immensely. Indeed, Dr David Mong and his father Dr William Mong have done so much for the University of Hong Kong over the past thirty years, if I were to list all that we have accomplished together we would likely be here until tomorrow morning. While highlights include three endowed professorships, a block in the Faculty of Medicine, the Lily Pond, and numerous scholarships and research funds across different faculties, I want to focus on one recent partnership that reveals a lot about Dr David Mong.
Dr David Mong was instrumental in the establishment of one of our most successful student halls opened in 2013 and inaugurated in 2015 as Shun Hing Residential College. Named after Shun Hing because of David's benefaction, 1982 students from sixty-three countries have called Shun Hing College their home. And the descriptor "home" is used often when you talk to students and faculty. It has become so much more than merely a place for students to eat and sleep while attending HKU. What do the students think about Shun Hing College? Tsveta Kalinova Konica from Bulgaria wrote that "A part of my heart will always be at the college and I will always call it home; one of those homes on the other side of the world where you find and rediscover yourself." Lydia Tan declared that Shun Hing College has taught her three life long lessons: "Respect, responsibility, and to be adventurous". Nathaniel Li wrote that Shun Hing is a place, "where students are passionate about improving together regardless of age, ethnicity, and gender". Indeed, that passion to improve and to embrace diversity and inclusivity encompasses academic pursuits, music, drama, cooking, and sports and is part of this college's identity. This college spirit echoes two phrases that David often quotes, one being "if you can do it better, why stop here" and the other is "always have fun".
Ladies and gentlemen, colleagues, Honourable Chancellor, I ask you to think beyond how Dr David Mong's generosity is shaping the lives of 450 students currently residing at Shun Hing College. Instead I encourage you to imagine how generations of students from Hong Kong and around the world will be afforded a unique and enriching opportunity because of Dr David Mong and Shun Hing.
Shun Hing College, through its endowment fund, also plays an important role in the HKU - University of Tokyo Joint Summer Exchange Program. This innovative credit bearing residential program enables twenty-eight students from HKU and the University of Tokyo to work together on projects exploring interconnections between Hong Kong and Japan in both cultural as well as business spheres. Dr David Mong has played an active role in this program ever since its inception.
Dr David Mong's commitment to furthering international educational exchanges, his deep ties to Japan, as well as his hands-on approach to life stem from his upbringing and education. Born in 1962, he grew up surrounded by products that his father marketed and sold in Hong Kong and Macau through Shun Hing. His father saw value not only in knowing how each product worked, but how it would be used by people in their everyday lives. To David, the expression "using is believing" is fundamental and it is not surprising that this motto echoes from top to bottom at Shun Hing Group.
Importantly, at a time when Japanese products were not viewed as the undisputed world leaders they are today, William Mong forged an agreement with Panasonic (then known at Matsushita) to market and distribute their products in Hong Kong and Macau. Built on trust and respect, this informal relationship blossomed and it quickly became what could best be described as a partnership. Understanding the idiosyncrasies of local consumers, Shun Hing relayed local knowledge to Panasonic so that it could better design and build products for the Hong Kong market. As my Japanese Studies colleague, Dr Yoshiko Nakano, has illustrated, Shun Hing's ideas led Panasonic to redesign the Hong Kong version of Japan's most sacred kitchen appliance-the rice cooker-with Hong Kong customers in mind. Amazing!
Dr David Mong's understanding of product design, development, and production was further forged in his formative years. In 1984 he graduated from UCLA with a Bachelor's of Science in electrical engineering. After graduating, David worked at Panasonic in Japan for four years. There he gained important personal and professional insight into all aspects of Japanese corporate culture. Importantly, David also served on a production line while working in the television division, learning how TV sets were assembled from the most basic parts up.
This hands-on approach also defines Dr David Mong's civic engagement in Hong Kong. David is actively involved in all manner of charitable and public service initiatives. He has generously supported the Hong Kong Arts Festival and the Hong Kong Sinfonietta. He is President of the Japan Society, Chairman of the Council of the Hong Kong Repertory Theatre, a member of the HKU Court and HKU Foundation Board, a Governor of the Charles K Kao Foundation for Alzheimer's disease, Vice President of the Hong Kong Amateur Swimming Association and the Hong Kong Amateur Athletic Association. I mention these last two associations because if you ask David Mong where his seemingly unlimited supply of energy comes from, he will quickly reply: sports. David is passionate about physical exercise and in particular running. Each morning he enjoys running up to 5km per day, whether in Tokyo or Hong Kong, regardless of the weather. To date he has completed thirty marathons and whenever the opportunity arises, he encourages students to participate in sports, particularly a team sport. David believes this helps remind young people that success is a team accomplishment.
As a historian of modern Japan who has spent his entire professional and student life studying this country, I can see how two great institutions-Shun Hing and Panasonic have influenced and strengthened each other over the past sixty-five years as partners. As a professor at the University of Hong Kong, I can see that very same dynamic at work here. Dr David Mong, thank you for your generosity, trust, and confidence in HKU. May this important partnership between Shun Hing Group and the University of Hong Kong not only grow, but also prosper in the years ahead.
Honourable Chancellor, it is my great honour and privilege to present to you Dr David Mong for the award of Doctor of Social Sciences honorius causa.
Citation written and delivered by Professor J Charles Schencking, the Public Orator of the University.