Main content start
LI Dak Sum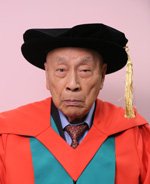 197th
Congregation
(2017)
LI Dak Sum
Doctor of Social Sciences
honoris causa
Dr Li Dak Sum received his Bachelor of Accounting degree from Fudan University in Chungking in 1945, and since then has pursued a highly successful career in business. He is Chairman of Roxy Property Investment Co Ltd and Chairman of the Carlton Group of Hotels in Singapore. He has served as Director of Hong Kong Television Broadcast Ltd and Vice Chairman of the Tung Wah Group of hospitals.

Dr Li has achieved distinction not only through his business acumen but also through his community service and his generous support of education both in Hong Kong and on the Chinese mainland. Well known for his loyalty to his Ningbo roots, Dr Li is the Founding President of the Ningbo Residents Association (Hong Kong), which established two Ningbo Colleges in Hong Kong.
HKU is one of the many local universities that have benefitted from Dr Li's generosity. Shortly after the HKU Foundation was established, he made his first donation to the University, creating the Dr Li Dak Sum Research and Development Fund in Orthopaedic Surgery.
In 2015, Dr Li established the Dr Li Dak-Sum Research Centre in regenerative medicine, which is a unique partnership between HKU and the Karolinska Institutet, being the first time the institute established a physical presence outside Sweden.
Dr Li continued to develop the culture of institutional advancement in Hong Kong by helping to set up a scholarship fund that would involve HKU, the Chinese University of Hong Kong and the Hong Kong University of Science and Technology. All three institutions received an equal share of the endowment fund, which would be used to award undergraduate scholarships to outstanding graduates from the Ningbo Colleges in Hong Kong.
Dr Li holds honorary doctoral degrees from the Chinese University of Hong Kong, the University of Nottingham in the UK, Fudan University in Shanghai, and an Honorary University Fellowship from HKU. He is also an Honorary Professor of Zhejiang University in Hangzhou, and an Honorary Citizen of Ningbo.
In 1996, an asteroid was named the "Li Dak Sum Star" by the Purple Mountain Observatory of the Chinese Academy of Sciences.
Dr Li was appointed a Justice of the Peace in 1977 and awarded the Grand Bauhinia Medal in 2015.
In recognition of his contributions to Hong Kong and higher education, the University has resolved to confer upon him the degree of Doctor of Social Sciences honoris causa.