Main content start
LI Dak Sum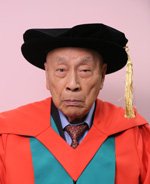 197th
Congregation
(2017)
LI Dak Sum
Doctor of Social Sciences
honoris causa
Mr Pro-Chancellor,
Dr Li Dak Sum is a remarkable self-made man who, having made a fortune in business, turned his attentions to philanthropy as a major benefactor in particular to education.
Dr Li, a native of Ningbo, was born in Shanghai in 1921. Having received his early education from tutors employed by his parents, he attended Cheng Zhong Middle School in Shanghai. He then entered Fudan University and graduated in 1945 with a degree in accounting. All was not well, however, in China and, sensing forthcoming political upheaval, he left in 1949 to come to Hong Kong.
Since his father ran a business in electrical goods in China, Dr Li decided to follow the family tradition and he began to trade in electronic materials in Hong Kong, becoming a wholesaler of electrical wire. By the mid-1950s he had succeeded in becoming the general agent for Sharp Corporation (Japan) in Hong Kong, Singapore and Malaysia and built a large production base in Malaysia for manufacturing televisions, refrigerators, high tech components and other electrical products. He also briefly expanded into the hotel business and, under the Carlton brand, opened hotels in Singapore, Australia and New Zealand.
Although in his mid-90s Dr Li still comes into his office in Admiralty on a daily basis and continues to hold the positions of Chairman of Roxy Property Investment Co Ltd and Chairman of the Carlton Hotel Group in Singapore.
Having seen so much suffering by his compatriots in China during the Japanese occupation, he determined to devote his life to helping others. Having begun his philanthropic works in his early days through the Ning Po Residents Association, he began tirelessly to devote himself to public service and philanthropic works especially in the arena of education. Indeed, he was motivated by his deep appreciation of the benefits of his own education and acknowledged the role of education generally in personal and national development.
He has been very generous to his own seats of learning giving a donation to rebuild his old school premises in Shanghai and Fudan University has similarly benefitted enormously from his largesses in re-establishing the Department of Accountancy and the construction of the Li Dak Sum Building to meet the developmental needs of the School of Management. Over many years his native city of Ningbo has received substantial gifts including money to build the Ningbo City Rehabilitation Centre for the Handicapped.
The University of Nottingham Ningbo China also received his magnanimous support in 2016 for establishing twenty Li Dak Sum Chair Professorships.
Educational institutions in Hong Kong have also been significant beneficiaries. At the Chinese University of Hong Kong his donation enabled the establishment of the Li Dak Sum Yip Yio Chin Research and Development Centre for Chinese Medicine and in 2015 his generous donation supported the establishment of the School of Veterinary Medicine at City University of Hong Kong.

Our University has been a major recipient of his generosity and support. Having made a significant donation to the HKU Foundation for Educational Development and Research, a further donation enabled the establishment of the Dr Li Dak-Sum Research and Development Fund in Orthopaedic Surgery. Most recently in 2015 the Dr Li Dak-Sum Research Centre was founded to provide a stimulating environment for cutting-edge research into stem cells and regenerative medicine. As our Provost Paul Tam explained, the Research Centre specifically fosters interdisciplinary research between Hong Kong and the Karolinska Institute of Sweden by bringing together scientists from different jurisdictions and backgrounds to advance research into regenerative medicine and stem cell biology especially in the area of neural, liver and cardiac diseases.
The extent of his generosity has indeed been breathtaking. In 2015 alone, for example, he donated HK$900 million for education of which more than $600 million was donated to the higher education sector in Hong Kong.
We and our sister institutions are immensely grateful for his kindness.
For his outstanding community service and devotion to philanthropy Dr Li has been the recipient of many honours. He has received honorary degrees from the Chinese University of Hong Kong, the University of Nottingham and Fudan University and was made an Honorary Fellow of this University in 1999. He is an honorary citizen of Ningbo.
Finally, and perhaps most remarkably, he has had an asteroid number 3812 named after him! I trust that it is not one which might strike the earth!
His two sons now carry on the family business. I asked him about his leisure activities and he replied that, all through his long life, he had been fully occupied by his business and philanthropic activities and, save for spending every Sunday with his loving wife and family, he had had no time left over for leisure!

He is still very much alert and, when I showed him my draft citation, he immediately spotted a typing error. I think I shall send him the proofs of my next book for proof-reading!
When asked about his motivation for philanthropy, Dr Li modestly replied:
Our generation had a difficult life when we were young as we were born during wartime in China and we suffered enormously under the Japanese occupation. I was fortunate to overcome many difficulties to complete my education which led me to believe that education is the key to a strong China. It has been my pleasure to do something for education and contribute to the community and country.
He has done more than "something". He has achieved great success. The world needs people like Dr Li. He has succeeded in making the world a better place.
Mr Pro-Chancellor, it is my privilege and honour to present to you Dr Li Dak Sum for the degree of Doctor of Social Sciences honoris causa.
Citation written and delivered by Professor Michael Wilkinson, the Public Orator of the University.