Main content start
James KUNG Ziang Mien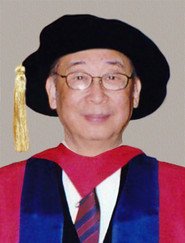 159th
Congregation
(2000)
James KUNG Ziang Mien
Doctor of Laws
honoris causa
Our next honorand is a banker, one who professes that he puts his bank first above all else. But it would seem that public service and philanthropy are also high on his list of priorities. Born in 1930 in Shanghai Dr James Ziang Mien Kung obtained an LLB degree from the Soochow University Law School in 1950 at the age of twenty. That same year he came to Hong Kong with, to quote him, "just a job, no money". He has certainly achieved a great deal since then. He is the Chairman and Chief Manager of the Chekiang First Bank and has many other successful business interests. While business acumen and other factors have contributed to his success, his commitment and industry have no doubt also played their part. Dr Kung took no long holidays during the first forty years of his career. His devotion to his profession is parallelled by his dedication to public service.
As a staunch Christian, he has been an Anglican since 1956, he feels strongly that, since he has been given so much, it is only right that he should try to repay society in the best way he knows - through a tireless devotion to public service. He believes it is particularly important to be generous with time; money is of secondary importance.
Dr Kung cultivates a low profile, believing like a true Christian that his left hand should not know what his right hand is doing in the matter of giving. Henry Ward Beecher put it wittily: "Do not give, as many rich men do, like a hen that lays her eggs and then cackles". Dr Kung certainly does not cackle about his generosity, and through the years has given unstintingly of his time, energy and expertise - and money - in the service of the community. One is struck by the range of Dr Kung's interests and activities. He has served and is serving in various capacities on committees requiring his business expertise, such as the Banking Advisory Committee, the Industry and Technology Development Council, the Travel Industry Compensation Fund Management Board, the China Business Council of the International Chamber of Commerce (Hong Kong), the Land Fund Advisory Committee.
His interest in recreation and culture are attested to by his contributions to the Ocean Park Corporation Board and the Hong Kong Ballet Limited. He is a Standing Member of the Shanghai Committee of China People's Political Consultative Conference and was a member of the Selection Committee for the First Government of Hong Kong Special Administrative Region of the People's Republic of China, and a trustee of the Liberal Party Trust Fund.
Needless to say Dr Kung is also active in charities like the Community Chest and the London Missionary Society Foundation. Two areas in particular have drawn Dr Kung's interest and support: they are education and medical and health care.
He believes that an educated population is the source of a country's strength and has devoted a great deal of his time to the cause of education in Hong Kong. Dr Kung has made sterling contributions to the development of some of our sister institutions during their formative years. As early as 1967 he started serving on the Board of Trustees of Chung Chi College, and throughout the 1980s he served, in turn, on the Council of the Chinese University of Hong Kong, as Treasurer of the, then, Hong Kong Polytechnic and on the Council of the, then, Baptist College. He has now turned his attention to the education of younger students, those at the pre-university level. The universities have expanded, and he wants to help provide these tertiary institutions with high quality students. He is working in conjunction with the YMCA Board to establish a school which will not only provide first-class academic training but also teach the pupils to become wholesome, ethical people. The school will be non-subvented and the school administration will have total say in the recruitment process. Dr Kung is totally committed to seeing this project through.
Medical and health care, particularly the provision of preventive medicine, is another area which engrosses Dr Kung's attention, and he has been devoting more and more time and energy to projects relating to medical care. His contributions to this area include the following: for six years he was Member of the Council for AIDS Trust Fund and Chairman of its Education and PR Sub-committee. Since 1991 he has been Patron of the Hong Kong Academy of Medicine Foundation Fund, and Chairman of the Finance Committee of the Hong Kong Liver Foundation since 1997. He has served as Director of the Lions Eye Bank of Hong Kong.
A perusal of Dr Kung's impressive list of service on public bodies shows two outstanding characteristics: the first is the length of the list and the second is the length of time he often serves on each committee. For example he has served the Community Chest in various capacities since 1988 and has been its Vice Patron since 1994. Dr Kung acknowledges that one of his failings is his inability to say "no" to calls to service. Hence he has "collected" so many appointments. This failing, his "soft spot" as he calls it, works to the benefit of the community. His loss of time for himself is Hong Kong's gain.
A record of Dr Kung's public service would certainly be incomplete without an account of what he has done for our University. In his zeal to further the cause of education here and on the Chinese Mainland he has helped to promote inter-institutional exchange for the University of Hong Kong, notably in our collaboration with Fudan University in Shanghai.
We are particularly indebted to Dr Kung for the pivotal role he played in securing a collaborative agreement between the prestigious Institut Pasteur in Paris and the University's Faculty of Medicine. The work of the Pasteur Institute is well-known; it has been at the forefront of the battle against infectious disease for over a century. As a worldwide biomedical research organization it was the first to isolate the AIDS virus, in 1983. It has also developed early detection tests for colon cancer, produced genetically engineered vaccine against hepatitis B and a rapid diagnostic test for the detection of helicobacter pylori bacterium, which is implicated in the formation of stomach ulcers, this being an area of leading research in the University of Hong Kong.
Learning that the Institute was seeking a collaborative partner in China, Dr Kung persuaded its representatives to consider our University. He personally financed several visits by their delegation, introducing them to prominent local citizens with the aim of impressing upon them the suitability of the University of Hong Kong as the Institute's partner in its future developments in China. He also acted as mediator in negotiations.
As a result of his tireless efforts an agreement to establish a HKU-Pasteur Research Centre was signed in October last year. This Centre will provide a golden opportunity for the University to collaborate with first-class researchers on emerging microbes in South-east Asia. Dr Kung served as convenor of the HKU-Pasteur Foundation Preparatory Committee and is Chairman-designate of the HKU-Pasteur Research Centre. With typical modesty he says that the feat was brought about by timing, good timing for the Hong Kong side, for the Pasteur Institute and for the French Consul General. But there is no discounting his personal efforts. The University is justifiably proud of our alliance with the Pasteur Institute and is duly grateful to Dr Kung.
Dr Kung is not a stranger to awards. This evening we are merely joining our voices to those who have already given him the recognition he deserves. He was awarded an honorary Doctor of Laws by the Chinese University of Hong Kong in 1990, an honorary Doctor of Business Administration in 1991 by the then Hong Kong Polytechnic, an Officer of the Most Excellent Order of the British Empire (OBE) in 1994. In that same year he was made Grand Officer of the Order of Merit of the Grand Duchy of Luxembourg. In 1996 he became a Chevalier Dans L'Ordre National De La Legion D'Honneur and a Commander in the Order of Leopold the following year.
One of Dr Kung's hobby is model making. He builds his models with infinite care and patience. His proudest achievement is a model boat which took some three thousand hours and meticulous attention to detail to build. It is with the same patience, the same loving care and attention to detail that James Ziang Mien Kung has built his reputation as a banker and an assiduous worker for the public good. Mr Pro-Chancellor, I call upon you to confer upon Dr James Kung the degree of Doctor of Laws honoris causa.
Citation written and delivered by Professor Mimi Chan Mei Mei, the Public Orator.