Main content start
Philip WONG Kin Hang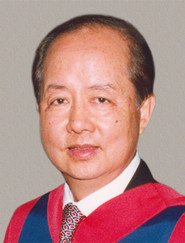 151st
Congregation
(1996)
Philip WONG Kin Hang
Doctor of Laws
honoris causa
The Public Orator Professor Mimi Chan, M.A., M.PHIL., wrote and delivered the following citation:
John Keats has written, 'I think we may class the lawyer in the natural history of monsters'. Our next graduand is a lawyer, and, if he is a monster, he is a monster of benevolence and philanthropic good will.
Our University is proud to honour yet another graduate. Philip K.H. Wong obtained a B.A. degree in 1955, and has in the years since his graduation, like a most filial and dutiful son, repaid his bountiful mother with 'bounty…as boundless as the sea'. To him we own a 'debt immense of endless gratitude' – for his devotion, loyalty and generousity, a generousity that goes far beyond the giving of money, though he has done that with great munificence. More importantly he has given unstintingly of his time, his energy, his dedication. He has moreover inspired others to emulate his example.
Born to an educator turned business man in Hong Kong, Philip K.H. Wong qualified as a solicitor in 1959, becoming a notary public in 1964 and China Attesting Officer, appointed by the Minister of Justice, People's Republic of China, in 1986. He founded the firm Philip K.H. Wong and Co. Solicitors and Notaries in 1961 and served as its senior partner until 1990. From 1990 he practiced under a new firm name of Philip K.H. Wong, Kennedy Y.H. Wong and Co., Kennedy Y.H. Wong being his son. He served as senior partner up to March 1995 and he is now a consultant with the firm. He has throughout his career enjoyed a high level of professional success, building up a reputation for integrity and winning the trust of a large clientele.
What lifts Mr. Wong above most other successful professional people is his dedication to public service. Mr. Wong has undertaken a staggeringly heavy load of community service over the years. To give even a partial list of his involvement with public services would be exhausting; to undertake the work seems unimaginable. Mr. Wong feels that philanthropy is something that comes naturally. He started almost thirty years ago, in 1968, as a Director of the Tung Wah Group of Hospitals. Once he started, his philanthropic activities took on their own momentum and it seemed impossible to stop. He became Vice-Chairman of Tung Wah (1969,1970) then Chairman from 1971 – 1972, during which time he accomplished a great deal; among other things, he raised a record sum of money; he saw the establishment of two non-profit making funeral parlous; the opening of the David Trench Home for the Aged; the launching of a new project for a fifth secondary school in Tuen Mun. He has kept up his association with Tung Wah: in 1984 he was appointed by the Governor as a member of the Tung Wah Group of Hospitals Advisory Board; from 1988 he has served as Vice-Chairman of the Association of Chairman of the Tung Wah Group. His activities reflect his concern for all classes of the population, all aspects of life in the community.
His community service falls into a number of broad categories: the first relates to charitable donations to the needy. This includes his work with the Tung Wah Group. From 1986-87 he was elected a Director and then an Executive Director of the Community Chest of Hong Kong, helping to raise funds and then allocate the funds. He is also trustee for the Provident Foundation, which, among other things, gives relief to the needy and the handicapped. From 1973-1985 he was appointed by the Governor as a Member of the Li Po Chun Trust Fund Committee which manages the Trust Fund.
A second area of public service which has engrossed Mr. Wong's attention is related to Mr. Wong's professional expertise. He was elected and served as a Council Member of the Law Society of Hong Kong (1976-80). He was one of the delegates of the Council's first visit to the People's Republic of China in 1979. Between 1984 and 1989, appointed by the Governor, he served as a Member of the Securities Commission, playing an active role in the work of a number of major committees. The work was painstaking, labourious, and sometimes time-consuming, especially after the stock market crash of 1987. After the restructuring of the Commission and the setting up of the new Securities and Futures Commission Mr. Wong was able to step down.
He has also been lending a helping hand to the development of medical services. His Tung Wah experience served him in good stead when he was appointed by the Governor as a member of the Medical Development Advisory Committee, which did a tremendous amount of work in advising the government on the setting up of the Hospital Authority. This appointment he held from 1986 to 1991.
In the area of personnel management of the Civil Service Philip Wong has also made a substantial contribution. From 1986 to 1995, appointed by the Governor, he has served as a Member and at times Acting Chairman of the Public Services Commission, which advises the Governor on Civil Service recruitment and promotion of the more senior ranks. He served nine years, his advice being considered so invaluable that he has been asked (from 1993) by the Governor to also serve on an advisory committee on Post Retirement Employment for Civil Servants.
He has also given support to the arts and culture through sponsorships. He was also appointed by the Governor as a Member of the Board of Governors of the Hong Kong Arts Centre.
Finally we must pay tribute to Philip Wong for his not insubstantial contributions to education in general and to the University of Hong Kong in particular. A firm believer in the value and importance of education, Mr. Wong has donated large sums either alone or jointly with his brother or friends to China for educational and sports purposes and facilities, notably in his native Toishan. These include Ming Tak Primary School, Toishan; Ming Tak Secondary School, Toishan; Toishan Teachers Training School; and an indoor sports hall for the University of Politics and Law in Beijing. He has also devoted money and energy to refurbishing No. 1 College, Toishan City, originally founded in 1910 through donations raised by his father, and at that time remarkably modern, complete with swimming pool, constructed on the model of universities like Tsinghua.
Mr. Wong set up four years ago his own foundation called the Philip K.H. Wong Foundation which gives scholarships to students to study in local universities in Hong Kong. In the academic year 1995/96, in all a total of 64 scholarships were awarded.
He is also a Trustee of the C.W. Chu Foundation, a highly reputable foundation set up by Mr. C.W. Chu to provide scholarships for select Hong Kong students to study in the United States. In recent years the emphasis has been changed to granting scholarships and subsidies to universities in Jiangsu Province. Since 1985 this Foundation has given away $30,000,000 for these purposes.
In recognition of his contributions to education, the Governor appointed him as a member of the Board of Governors of Lingnan College, Hong Kong in 1993.
A record of Philip Wong's contribution to education would be incomplete without reference to what he has done for our University – our University and his. He has rendered sterling service as President of our Alumni Association. To him we owe the canny decision of buying the Association premises. His association with the University was strengthened further when, meeting Philip Wong by accident at a concert, Dr. David Li, his fellow graduand this afternoon, asked him to join the team preparing for our 'Into the Ninth Decade' celebrations. He worked closely with former Vice-Chancellor Wang Gungwu, throwing himself into the project with total commitment, feeling it was the chance of a lifetime to work for his Alma Mater to enhance her image. He was also active in helping set up the Hong Kong University Foundation. He drew heavily on his professional expertise and experience in setting up trusts and foundations. This labour of love started immediately after the 'Ninth Decade' celebrations and took three years to complete. His generosity and dedication are attested to by the fact that Mr. Wong is responsible for either donating or raising a substantial part of the $200,000,000 raised so far.
Philip Wong believes in helping his fellow men, believing with St Paul that charity is the queen of virtues. 'And though I bestow all my goods to feed the poor…and have not charity, it profiteth me nothing.' Nor does Philip Wong seek publicity for his giving. As a true Christian he does not give his 'alms before men, to be seen of them'; he does not 'sound a trumpet in the streets'. He is quiet, hardworking, and unassuming. His one unfulfilled ambition is to write a few books about what he has seen and experienced. He modestly wishes to be described as an 'ordinary person who perhaps has done something extraordinary and beneficial for the community of Hong Kong and China'. Philip Wong is an extraordinary person, extraordinary in his selfless devotion to the cause of helping others, who has certainly made a lasting contribution to the community.
Mr. Chancellor, for his commitment to community service and his generosity of spirit, I request you to confer upon Philip K.H. Wong the degree of Doctor of Laws, honoris causa.