Main content start
David LI Kwok Po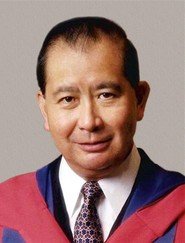 151st
Congregation
(1996)
David LI Kwok Po
Doctor of Laws
honoris causa
The Public Orator Professor Mimi Chan, M.A., M.PHIL., wrote and delivered the following citation:
We are not the first academic institution to honour Dr. David Li Kwok Po. His Alma Mater, the University of Cambridge, honoured him with an Honorary Degree of Doctor of Law in 1993. The University of Warwick conferred the Honorary Degree of Doctor of Laws in 1994. If Cambridge is Dr. Li's bountiful mother, then one may well see our University as his adoptive one. He has taken time out from his incredibly full agenda to be of service to her, with no less zeal than if he were one of her own. He has served on the University's Council since 1978, currently in the capacity of Treasurer and Vice-Chairman, and lent his invaluable expertise to many areas of our University's endeavours. Since 1992 David Li has served as Chairman of the University's Committee on the Ninth Decade and Beyond and played an invaluable role first in the organization of the eightieth anniversary celebrations and then in the establishment of the University of Hong Kong Foundation for Educational Development and Research. To Dr. Li's altruism, dedication and dynamism we are to a large extent indebted for the success of these activities.
David Li speaks of our institution with affection, familiarity and interest, leaving no doubt as to the degree of his commitment. Going through recommendations for professorial salary adjustments (and, I understand, usually adjusting them upwards) is in itself a time-consuming task, but by no means his most onerous one as Treasurer. If our university has been a laggard in showing gratitude, in proclaiming favours that keep within "through outward courtesies" we hope to make amends this afternoon.
Dr. Li approaches other aspects of his multifaceted activities with the same enthusiasm and zeal he brings to his work for our University. To glance at his curriculum vitae is enough to make the mind boggle at his incredible energy, his range of talents, abilities and interests and the extent of his achievements. Dr. Li graduated from Cambridge in Economics and Law, and is a Fellow of the Chartered Institute of Bankers and of the Institute of Chartered Accountants in England and Wales. A banker by profession, he has been since 1981 Chief Executive of the Bank of East Asia, which under his stewardship, has gone from strength to strength. But his business interests go far beyond the Bank of East Asia - he serves on the international advisory boards of companies such as IBM, Daimler Benz, Rolls-Royce plc to name but a few out of a very lengthy list. He is Director of innumerable companies, including Campbell Soup and San Miguel Brewery. The formidable list of his directorships has earned Dr. Li the nickname around town of Director and given proof of the truth of the Chinese adage, the able are burdened with work.
We in the region are indebted to Dr. Li for making Western business aware of the management skills of the Chinese. Not only does he provide a laudable example of good management but he is also an acknowledged leader in promoting business studies. He has for many years been Chairman of the Executive Committee and the Executive Council of the Hong Kong Management Association and he has served as Honorary President of the Asian Association of Management Organizations.
Over and above Dr. Li's business activities he has made time for what to a lesser mortal would be a crippling load of community and public service. Our University and the Hong Kong Management Association are but two of the beneficiaries of his dedication to public service. Dr. Li is the elected representative of the Finance Constituency to the Legislative Council, a member of the Hong Kong Special Administrative Region Preparatory Committee, a Hong Kong Affairs Adviser to the People's Republic of China, Convenor of the Investment Committee, the Hong Kong Special Administrative Region Government Land Fund Trust. He was also Vice-Chairman of the Basic Law Drafting Committee, which laid the groundwork for the laws of Hong Kong after 1997. There is no doubt the University wishes to pay tribute to Dr. Li as a businessman and for his contributions towards providing confidence and stability during the turbulent years of the transition.
But it is no less keen to honour Dr. Li for his work as a patron of the arts and of education and as a humanitarian. Dr. Li is truly man for all seasons". A lover of the arts, of music and the dance, he has lent his considerable clout to the promotion of the arts in Hong Kong. Few would associate the urbane, impeccably dressed banker with his work for the Festival Fringe, of which he is Patron. He is also Adviser to the Hong Kong Arts Festival Society Ltd and the Hong Kong Ballet. Indeed he is no mean musician himself, and if we are to judge from his extra-curricular activities as a student, perhaps the business circle's gain is the pop music scene's loss. He is also a promoter of fledgling Chinese Painters. He took the initiative in founding The Friends of Cambridge University in Hong Kong, which established a Scholarship Fund which has enabled Hong Kong scholars to attend Cambridge University.
Dr. Li believes in paying sort of social tax - to use his own words - back to the community which has given him so much. Albeit Mark Twain has written, "banker is a fellow who lends his umbrella when the sun is shining and wants it back the minute it begins to rain", Dr. Lee believes in lending not just an umbrella but also a helping hand to those on whom the sun does not shine. Since his student days he has been involved with the Salvation Army, of which he is now Chairman of the Advisory Board. He is also Chairman of the Executive Committee of St. James' Settlement. The number of charitable causes to which he has committed his time and energy are such that we are led to think that Dr. Li, like Bacon, feels that charity there is no excess.
In spite of a long sojourn away from her shores as a student Dr. Li's home and his heart are in Hong Kong. Six generations of his family have built their lives and fortunes here. In spite of his predominately Western education he has maintained traditional Chinese values. In the management of the Bank of East Asia Dr. Li has attempted a merger of the best of Eastern and Western management styles. The bank was the first to re-enter China and it is a pioneer in Mainland joint venture projects. Like Hong Kong itself, our graduand has played a part in bringing the world to China and China to the world." His name in Chinese literally means national treasure", a name difficult to live up to. Our graduand has done well.
Mr. Chancellor, for his personal qualities, for his many achievements, particularly for his services to the economy of Hong Kong, I call upon you to confer on the Honorable David Li Kwok Po the Degree of Doctor of Laws honoris causa.