Main content start
HKU confers Honorary Degrees upon three outstanding individuals at the 197th Congregation

HKU confers Honorary Degrees upon three outstanding individuals at the 197th Congregation
March 14, 2017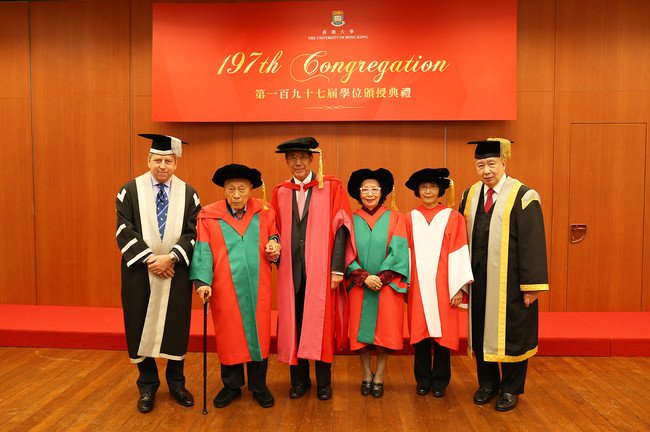 From left: HKU President Professor Peter MATHIESON; Dr LI Dak Sum, Doctor of Social Sciences honoris causa; HKU Council Chairman Professor Arthur LI; Dr BOW Sui May, Doctor of Social Sciences honoris causa; Professor Anna LOK Suk Fong, Doctor of Science honoris causa; HKU Pro-Chancellor Dr David LI Kwok Po
The Pro-Chancellor of the University of Hong Kong (HKU) Dr the Honourable Sir David Li Kwok Po conferred honorary degrees upon three outstanding individuals at the 197th Congregation today (March 14).
Honorary Degrees are awarded to individuals in recognition of their distinguished service and commitment to the University, the community, and to academia. They are also conferred to those who have made valuable intellectual, social and cultural contributions to society and the world.
The honorary degree recipients are:
Doctor of Science honoris causa
Anna LOK Suk Fong
Doctor of Social Sciences honoris causa
BOW Sui May
LI Dak Sum
Professor Anna Lok Suk Fong delivered the acceptance speech on behalf of the Honorary Graduates. She referred to the common goal they share, i.e., to equip the next generation with skills they need to succeed so they can contribute to society.
Dr Li Dak Sum was honoured because of his generous support of education both in Hong Kong and in China.
Professor Lok said of Dr Li: "His recent donation to three universities in Hong Kong including the University of Hong Kong to provide scholarships to outstanding students with financial needs will help them complete the high quality education they need to succeed, so they can apply their talents to benefit society."
Ms Bow Sui May was honoured because of her dedication to the education of deaf children.
"Through decades of hard work, perseverance and unwavering dedication, she has made it possible for deaf children in Hong Kong to receive formal education, providing them with the skills to secure jobs and to become independent," said Professor Lok, adding that the good work has been extended to benefit children in the region, including in Mainland China, enabling thousands of deaf students to receive a formal education.
Professor Lok is an internationally renowned academic in liver diseases, and is currently conducting research at the University of Michigan in the USA.
She said: "As a medical school faculty member, I have a tripartite mission – education, research, and patient care."
"As a physician, we take great comfort knowing that we help alleviate sufferings of our patients, one at a time. As a researcher, we have the potential to impact the lives of thousands and millions of patients at the same time."
Professor Lok emphasised in particular education, which she thought "seldom gets the attention it deserves". She recalled the education and mentoring she received as a student and as a faculty at HKU, and during her fellowship training in London and expressed her gratitude towards the inspiring teachers who had taught and worked with her.
Now a mentor herself, Professor Lok said: "From time to time, my mentees would ask how they can ever pay me back. My response is – I am able to help you now because someone helped me in the past."
"I am pleased to say many of my mentees have become leaders in their own right and are indeed fostering another generation of physicians and researchers – these are my 'grandchildren'. Collectively, we will bring a cure for hepatitis B closer to reality," she added.