Main content start
HKU confers Honorary Degree on internationally acclaimed scientist Professor Jennifer Doudna at the 198th Congregation

HKU confers Honorary Degree on internationally acclaimed scientist Professor Jennifer Doudna at the 198th Congregation
December 18, 2017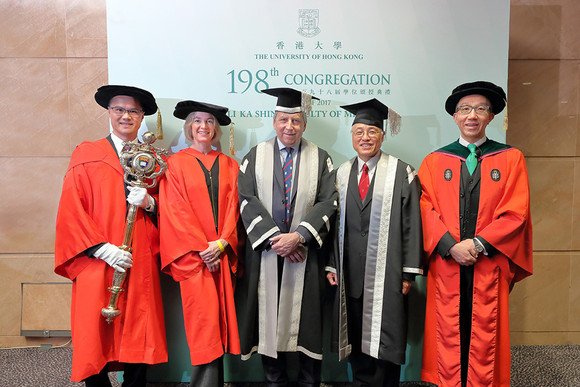 HKU confers an Honorary Degree upon internationally acclaimed scientist, Professor Jennifer DOUDNA at the 198th Congregation.
The President and Vice-Chancellor of the University of Hong Kong (HKU) Professor Peter Mathieson conferred an honorary degree on the internationally acclaimed scientist, Professor Jennifer Doudna at the Li Ka Shing Faculty of Medicine session of the 198th Congregation yesterday (December 17, 2017).
Honorary Degrees are awarded to individuals in recognition of their distinguished service and commitment to the University, the community and academia. They are also conferred to those who have made valuable intellectual, social and cultural contributions to society and the world.
Professor Doudna delivered an acceptance speech to the HKU Medicine graduates of the Class of 2017. She shared how her teacher and dad acted as mentors to guide her throughout the scientific journey. Besides, she stressed the importance of finding ways to maintain inspiration and enough optimism when facing failures.
Finally, Professor Doudna encouraged the graduates to embark the journey forward from today. She said, "seek out mentors for the next steps along your path. Embrace the twists and turns in the path. And spend time with family and friends to keep perspective on the road ahead."