Main content start
HKU confers an Honorary Degree upon Dr. Henry Hu Hung Lick at the 193rd Congregation

HKU confers an Honorary Degree upon Dr. Henry Hu Hung Lick at the 193rd Congregation
March 19, 2015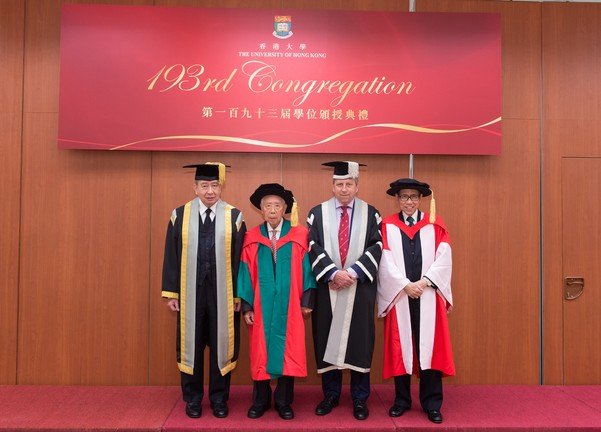 The Pro-Chancellor of the University of Hong Kong (HKU) Dr David Li Kwok Po conferred today (March 19) the Doctor of Social Sciences honoris causa upon Dr. Henry HU Hung Lick at the University's 193rd Congregation.
Dr Henry Hu is the founder and President of the Hong Kong Shue Yan University and pioneered the development of private higher education in Hong Kong.
In his acceptance speech, delivered on behalf of him by Professor Hu Yao Su, Academic Vice-President of the Hong Kong Shue Yan University, Dr Hu said: "I have great pleasure in accepting the award as it gives me the opportunity to reflect from the vantage point of my 95 years, on the changes I have observed in Hong Kong during the past six decades when it has been my home, at the intersection between those areas where I have been most actively involved: the law, politics and higher education; areas that have again been under the spotlight in Hong Kong since October last year."
Dr Hu recalled the early years after founding Shue Yan College with his wife, the late Dr Chung Chi Yung, in 1971, which had at times been steep, thorny and solitary.
He said: "With the dedication of staff, students and supporters, who recognized the value of a Shue Yan education, we were able to stick to our principles, adopt an independent stance that was at odds with government policy and survive until policy changed again and paved the way for us to move forward to achieving our goal of University title."
Dr Hu said changes in society have posed new challenges to the university, which include an over-supply of places in self-financing institutions, resulting from a demographic downturn, as early as in 2016/17.
"To survive and thrive in the decade to come, Shue Yan must yet again make hard choices and take decisions that are both principled and pragmatic about how we can best continue to serve the Hong Kong community by playing to our strengths in areas of need." He added.
Finally, Dr Hu shared the key to remaining in good health. He said: "I believe that remaining active, both intellectually and physically, is one of the keys to longevity. Confucius himself made the point clearly in the Analects, Book VII. When describing himself, he said "This is the character of the man so intent upon enlightening the eager that he forgets his hunger, and so happy in doing so, that he forgets the bitterness of his lot and does not realize that old age is at hand." (「其為人也,發憤忘食,樂以忘憂,不知老之將至云爾」《論語‧述而》)
Honorary Degrees are awarded to individuals in recognition of their distinguished service and commitment to the University, the community, and to academia. They are also conferred to those who have made valuable intellectual, social and cultural contributions to society and the world.