Main content start
Lawrence FUNG Siu Por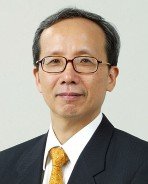 182nd
Congregation
(2010)
Lawrence FUNG Siu Por
Doctor of Social Sciences
honoris causa
Mr Lawrence Fung Siu Por launched the Hong Kong Economic Times (HKET) in 1988, and as its Publisher and Chief Editor, helped lay the foundations for it to become the leading business daily in Hong Kong. He is currently the Chairman and Founder of Hong Kong Economic Times Holdings Limited.
Under his leadership, the group diversified into a variety of specialisations: printed media, financial news agency, information and solutions, recruitment advertising and training, and lifestyle portals. Prior to founding HKET, Mr Fung and his partners saw the trade and development potential of the open door policy of Mainland China in the late 1970s and entered into a wide range of business ventures.
Mr Fung attended the University of Hong Kong and was the elected President of the Students' Union in 1971. He graduated from HKU with a Bachelor of Social Sciences degree in 1972, and continued his studies at the University of Manchester in the United Kingdom, receiving his Master of Arts degree in Economics in 1977.
In 2006, Mr Fung and his wife established the Azalea (1972) Endowment Fund with a donation to HKU of 10% of the issued share capital of Hong Kong Economic Times Holdings Limited, to provide funding for HKU designated projects that benefit the Hong Kong community.
Mr Fung was awarded the Gold Bauhinia Star in 2003. He was a founding member of the HKU Graduates Association Education Foundation. He is an Honorary Patron of the HKU Foundation and has enthusiastically guided the University's students as an HKU Mentor.
In recognition of his contributions to academia and Hong Kong, the University has resolved to confer upon him the degree of Doctor of Social Sciences honoris causa.