Main content start
The Rt Hon the Lord Crawford Murray MACLEHOSE of Beoch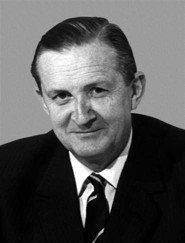 144th
Congregation
(1992)
The Rt Hon the Lord Crawford Murray MACLEHOSE of Beoch
Doctor of Laws
honoris causa
Lord MacLehose of Beoch, of Maybole in the District of Kyle and Carrick, and of Victoria in Hong Kong, was the Governor and Commander-in-Chief of Hong Kong from 1971 to 1982 when he was made a life peer. He was born in 1917 and after serving in the Second World War in the Royal Naval (Volunteer) Reserve and the Colonial Service in what was then Malaya, he joined the British Foreign Service in 1947 to begin a long and distinguished diplomatic career.
He later served in Hankow, Prague and Paris and was ambassador to Vietnam from 1967 to 1969 and to Denmark from 1969 until 1971, when he came as Governor to Hong Kong, where he had earlier been Political Advisor from 1959 to 1962.
Lord MacLehose was a much loved Governor of Hong Kong and under him great strides were made, through a series of Ten-Year Plans, in providing better housing and education. In the tertiary education sector in particular, the Hong Kong Polytechnic was founded, and the University Grants Committee expanded to University and Polytechnic Grants Committee, during his Governorship. He is particularly remembered for his practice of going out and meeting ordinary people on the street and his role in expanding youth activities. He had tremendous support among the Chinese community during his Governorship and perhaps his single most important contribution to Hong Kong was the setting up of the Independent Commission Against Corruption.
In recognition of his services to Hong Kong, the University has resolved to confer upon him the degree of Doctor of Laws honoris causa.