Main content start
John CHAN Cho Chak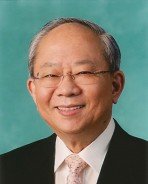 184th
Congregation
(2011)
John CHAN Cho Chak
Doctor of Social Sciences
honoris causa
Dr John Chan Cho Chak is renowned and respected for his lifetime of contributions to many different sectors in Hong Kong - the civil service, commerce, and public and community service.
Dr Chan holds a Bachelor of Arts (Honours) degree and a Diploma in Management Studies from HKU. He has served the Hong Kong Government in many posts, including as Private Secretary to the Governor from 1973-1975. He has been the Managing Director of Transport International Holdings and the Kowloon Motor Bus Company, and his illustrious public service includes the Chairmanship of the Hong Kong Jockey Club and the Hong Kong University of Science and Technology (HKUST) Court and Council.
Dr Chan was appointed Justice of the Peace in 1994, awarded a Gold Bauhinia Star in 1999 and an Honorary University Fellowship from HKU in 2000, and conferred an Honorary Doctorate from HKUST in 2009.
In recognition of his contributions to academia and Hong Kong, the University has resolved to confer upon Dr John Chan Cho Chak the degree of Doctor of Social Sciences honoris causa.