Main content start
John CHAN Cho Chak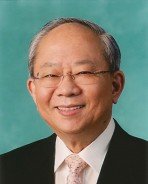 184th
Congregation
(2011)
John CHAN Cho Chak
Doctor of Social Sciences
honoris causa
Dr John Chan Cho Chak is a man of many talents. He has enjoyed a most distinguished career as civil servant, business tycoon and community leader. His contribution to the prosperity of Hong Kong has been immense.
John graduated from this University in 1964 with an honours degree in English Literature. He immediately began a career in the Hong Kong civil service in which he enjoyed spectacular success. He served our Government with devotion from 1964 until 1993 only taking a two year break when he assumed the position of Executive Director of Sun Hung Kai Finance which, he says looking back, was a very useful learning experience. In particular, working in the private sector inculcated in him an approach to challenge that nothing is impossible, a philosophy that has guided him through his career.
Among the key posts that he held in Government were those of Private Secretary to the Governor (the late Lord MacLehose), Director of Information Services, Secretary for Trade and Industry and Secretary for Education and Manpower. In the role of Deputy Secretary (General Duties) John was intensely involved in a most critical period of Hong Kong when the Sino-British Joint Declaration and the concept of "One Country Two Systems", two cornerstones of our present prosperity, were formulated.
Having retired from the civil service in 1993, John devoted himself to a new career in commerce. He immediately assumed the post of Managing Director of Kowloon Motor Bus Co, at the same time serving as a Council Member of the Hong Kong Stock Exchange. In 1994 he was appointed Chairman of the Hong Kong Securities Clearing Company, a post he held until 2000. Under his leadership Kowloon Motor Bus underwent spectacular change and John can justly claim responsibility for expanding the company out of all recognition from a family business into a conglomerate conducting divers businesses both in Hong Kong and the Mainland under its newly formed holding company Transport International Holdings Ltd. John served as the Managing Director of both the Kowloon Motor Bus Co (1933) Ltd and Long Win Bus Company Ltd. Kowloon Motor Bus is one of the largest privately owned and operated bus companies in the world with a fleet of more than 4,000 buses plying some 400 routes. He retired from all executive positions in 2008 but remains a Non-Executive Director of both companies. One innovation, of which John is rightly proud, is that it was his initiative, an initiative which involved much design effort, to introduce wheelchair-accessible double decker busses to Hong Kong.
His contribution to the entertainment industry may be less well known. When you travel by KMB bus you may watch "Roadshow", for which John Chan, being largely responsible, may, depending on your point of view, be praised or blamed. Roadshow was the first "Multi-media On Board" service available on transit vehicles in the world providing entertainment by way of programmes broadcast daily to an audience of more than three million by a series of strategically mounted vibration resistant LCD monitors installed in more than 4000 vehicles. This service notoriously led to the birth of the Anti-bus Noise Group "Hush the Bus" who complains that passengers are a captive audience who should be permitted to turn off the broadcasts if they so wish. As we well know, their lobbying has not proved successful.
Such heavy commitments to the commercial world did not, however, prevent John Chan from devoting much care and effort to community service. He has held the positions of First Vice-President of the Community Chest, member of the Advisory Committee on Corruption and member of the East Asian Games Planning Committee. More recently, he was proud to be one of our torch bearers for the Beijing Olympic Games in 2008.
He also held the prestigious position of Chairman of the Hong Kong Jockey Club from 2006 until 2010. It is perhaps appropriate here to mention the enormous support given to this University by the Hong Kong Jockey Club through John Chan and his predecessors (and, we hope, his successors). The Hong Kong Jockey Club has for many years shown a laudable commitment to local education and The University of Hong Kong has happily been one of its longest standing beneficiaries. Since 1957 the Club had funded more than seventy different HKU related projects through its Charities Trust involving total donations of more than $874 million.
Having earlier served Government as Secretary for Education, John was an obvious choice for appointment by the Chief Executive as Chairman of the Council of the Hong Kong University of Science and Technology, a post in which he excelled from 2002 until 2008.
John was awarded a Gold Bauhinia Star in 1999, an Honorary Fellowship by this University in 2000 and an Honorary Doctorate from the University of Science and Technology in 2009.
John does occasionally relax and his love for acting, born during his schooldays at Wah Yan and La Salle Colleges, continued throughout his working life. He was a member of this University's society
"The Masquers", a group of students staging Shakespearian productions and he has become well known for his starring roles in Chinese opera sung in English with such luminaries as Donald Tsang and Michael Suen.
John is a regular invitee to our alma mater. He was invited to address our 183rd Congregation in November 2010. Whist giving wise advice to our newly graduating cohort of students he said:
"A committed employee is one who will always stand ready to do his best for the organization and who will always put the organisation's interests ahead of his own personal interests".
In his own illustrious career John has himself personified those sentiments by devoting himself wholeheartedly to Government, private industry, the community and tertiary education.
Mr Pro-Chancellor, it is my honour and privilege to present to you Dr John Chan Cho Chak for the award of the degree of Doctor of Social Sciences honoris causa.
Citation written and delivered by Professor Michael Wilkinson, the Public Orator of the University.