Main content start
FAN Jinshi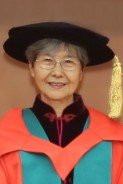 188th
Congregation
(2013)
FAN Jinshi
Doctor of Social Sciences
honoris causa
Professor Fan Jinshi is the Director of the Dunhuang Academy in Gansu Province.
After graduating from Peking University where she studied archaeology in 1963, she joined the Research Institute on Cultural Relics of Dunhuang (later renamed the Dunhuang Academy). She was appointed Deputy Director of the then Institute in 1977, Deputy Director of the Dunhuang Academy in 1984, Executive Deputy Director of the Academy in 1993 and Director of the Academy in April 1998.
Professor Fan has dedicated herself to the archaeological study, conservation and management of the Dunhuang Grottoes for over five decades. She has strengthened international cooperation to ensure the preservation of Dunhuang heritage and is now working on a "Digital Dunhuang" project - expanding accessibility to research materials and safeguarding them for future generations.
Professor Fan has participated in over a dozen related projects, including the protection and use of the Dunhuang Grottoes, the construction of the Mogao Visitor Centre and a long-term, overall conservation plan for the Dunhuang Grottoes. She has also compiled and edited The Complete Collection of Dunhuang Grottoes (26 volumes), and published over a dozen publications and papers on her studies of the Dunhuang Grottoes.
Professor Fan has served as a Member of the 8th to 11th Chinese People's Political Consultative Conference since 1993. She was named one of the "Most Outstanding Professionals of the Nation" jointly by the Organisation Department, Propaganda Department, Ministry of Personnel and Ministry of Science and Technology in 2002.
In recognition of her contributions to archaeological research and society, the University has resolved to confer upon her the degree of Doctor of Social Sciences honoris causa.