Main content start
CHAN Shuk Leung (PAK Suet Sin)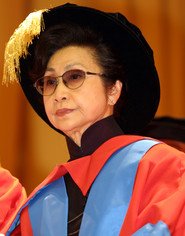 169th
Congregation
(2004)
CHAN Shuk Leung (PAK Suet Sin)
Doctor of Letters
honoris causa
Ms Chan Shuk Leung (stage name: Pak Suet Sin) is one of Cantonese opera's most enduring stars.
As a young novice Ms Chan appeared in many supporting roles with a number of well-known companies and, in 1956, formed the Sin Fung Ming Theatre Company with her collaborator, Ms Yam Kim Fai and reached a new peak as an artist.
Her career epitomises the artist's achievements and contributions to Chinese traditional culture. As an opera singer she has won widespread acclaim. But she has also been a dedicated teacher of younger generations. She has placed much effort on advocating the preservation of Chinese opera and on promoting the art.
In 1990 she established the Yam-Pak Charitable Foundation to support research into Cantonese traditional dramatic art. In 1996 she was made a Honorary Fellow of the Hong Kong Academy of Performing Arts and the following year received an Honorary University Fellowship from HKU.
In recognition of her contributions, the University has resolved to confer upon her the degree of Doctor of Letters honoris causa.