Main content start
Ann HUI On Wah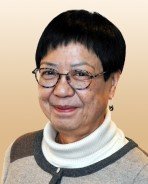 190th
Congregation
(2014)
Ann HUI On Wah
Doctor of Social Sciences
honoris causa
Dr Ann Hui On Wah is one of Hong Kong's most influential filmmakers and her films have won countless international awards.
Born in Anshan, Liaoning Province, and educated in Hong Kong, she holds BA (1st class honours) and MA degrees from HKU, and a Diploma (1st class honours) from the London Film School. After returning to Hong Kong, Dr Hui became an assistant to veteran director King Hu, and directed serials and documentaries for TVB, the ICAC and RTHK.
In 1979, she came to prominence on the big screen with her debut as a film director with the award winning "The Secret", and over the next three decades, her subsequent films would bring her more awards and increasing international acclaim. She has won the Best Director Award twice at the Golden Horse Awards and an unprecedented four times at the Hong Kong Film Awards. Her recent film "A Simple Life" swept the boards at the Venice International Film Festival and many other renowned film festivals.
Dr Hui is an Honorary University Fellow of HKU, and as one of its first University Artists, she frequently shared her insights and experience on film, literature and life with HKU members and the community.
In 1997, Dr Hui was awarded an MBE and made a Fellow of the Academy of Performing Arts. In 2010, she received the Hong Kong Arts Development Council's Award for Outstanding Contribution. And in 2011, she received the Lifetime Achievement Award - its first female recipient - from the Asia Film Awards.
In recognition of her contributions to culture and society, the University has resolved to confer upon her the degree of Doctor of Social Sciences honoris causa.