Main content start
FEI Xiaotong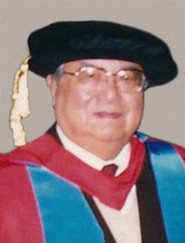 136th
Congregation
(1989)
FEI Xiaotong
Doctor of Letters
honoris causa
Professor Fei Xiaotong is among the most distinguished scholars in mainland China. His academic career, which spans more than half a century, has been mainly devoted to the teaching of and research in the social sciences, his specialised interests encompassing sociology, anthropology and ethnology.
Professor Fei was born in 1910 in Jiangsu Province and graduated from the Social Sciences Department of the Yanjing University in Beijing in 1923. After obtaining his PhD degree from the University of London, he returned to China in 1939 and was appointed Professor of Social Anthropology at the National Yunnan University. An invitation from the US State Department in 1943 offered him the opportunity to undertake teaching and research, first at Harvard University, then the University of Chicago and the Institute of Pacific Relations in New York. During that time, his scholastic expertise and critical views had earned him a considerable reputation as a major exponent of contemporary social sciences issues.
Following his return to China in 1949, Professor Fei was assigned to various important government posts, having been appointed, inter alia, as Vice-President of the Academic Committee under the Nationalities Affairs Commission, and as Vice-Chairman of the 6th Chinese People Political Consultative Conference. He was active in the Academy of Social Sciences, as the Vice-President of the Central Institute of National Minorities, Deputy Director of the Institute of Nationalities, and Honorary Director of the Institute of Sociology. He was also Professor in the Social Sciences Department at Tsinghua University and was elected a member of a number of learned societies.
His understanding of and experience in handling nationalities affairs, together with his insight into sociological developments in 20th century China, has gained him worldwide recognition, bringing to him a host of honours and academic titles. Among them, he has been a winner of the Bronislaw Malinowski honorary prize conferred by the International Applied Anthropology Association, winner of the prestigious Huxley Memorial Prize conferred by the Royal Anthropological Institute of Great Britain and Ireland, and Honorary Fellow of the London School of Economics and Political Science.
His writings, which include Peasant Life in China (1938), Rural China (1947), Rural Reconstruction (1948), Gentry Power and Imperial Power (1948), and Toward a People's Anthropology (1981), a collection of 6 articles and theses, are regarded as required reading for the study of modern China.
In recognition of his outstanding achievements in the social sciences, the University has resolved to confer upon him the degree of Doctor of Letters honoris causa.