Main content start
Leszek Krzysztof BORYSIEWICZ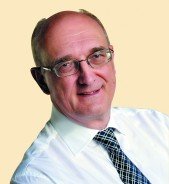 186th
Congregation
(2012)
Leszek Krzysztof BORYSIEWICZ
Doctor of Science
honoris causa
Professor Sir Leszek Borysiewicz is a remarkable man who has excelled twice over in very different spheres of activity; first as medical researcher and more recently as a university administrator.
Sir Leszek was born in Wales of Polish parents who came to the United Kingdom as refugees. His parents were captured in Eastern Poland at the outbreak of the Second World War and spent two years in Siberia. When Hitler invaded the Soviet Union in 1941 they trekked across Central Asia to Egypt where they joined the British 8th Army in its operations up to and including the invasion of Italy. After the war they chose to settle in the United Kingdom rather than return to their native Poland. There seems no doubt that their indomitable spirit was passed on to their son.
Living in a small Polish-speaking community in a housing estate in Cardiff, Sir Leszek only began to speak English when he was five years old. Having passed his school examinations with flying colours he was admitted to study medicine at the Welsh National School of Medicine (now part of Cardiff Medical School), later receiving his doctorate from the Royal Postgraduate Medical School in London. It was there that he gained a lifelong research passion for immunology with particular interest as to why latent viruses that normally remained quiescent in humans could suddenly morph into pathogens.
In 1987 he took up his first post at Cambridge University working at Addenbrooke's Hospital. After only four years, however, he returned to his home city of Cardiff on being appointed head of the Department of Medicine at the University of Wales. It was there that he led a research team to carry out pioneering work on vaccines. In particular he conducted clinical trials for a therapeutic vaccine for human papilloma-virus, a cause of cervical cancer.
In 2001 he was knighted by the Queen for his services to vaccine research.
That same year he joined Imperial College London as Principal of the Faculty of Medicine, soon being elevated to the post of Deputy Rector responsible for the overall academic and scientific direction of the College. He firmly encouraged the development of inter-disciplinary research between engineering, physical sciences and biomedicine which led to the construction of Europe's largest clinical imaging facility, the Burlington Danes Building. He was also an enthusiastic supporter of the Generating Genius Programme aimed at raising awareness of opportunities amongst underprivileged but gifted school children in London.
In 2007 he left Imperial College to take up appointment as Chief Executive of the Medical Research Council and in this role he contributed to some of the most contentious medical debates such as stem cell research and cloning. His work there has been much acclaimed, particularly through his encouragement of research into viral immunology, infectious diseases, cell mediated immunity, virus-associated malignancy and vaccine development. During his time with the Medical Research Council he was elected Vice President of the Heads of European Research Councils and Chair of the Heads of International Biomedical Research Organisations.
Sir Leszek was appointed the 345th Vice-Chancellor of the University of Cambridge in 2010. Since assuming office he has been an outspoken critic of the UK Government's funding cuts which have had a particularly adverse effect on the arts and humanities.
Realising an opportunity I could not resist as asked him as Vice Chancellor of perhaps the top university in the world for his views on the role of universities. He replied:
"The purpose of a university is to serve society. In the globalised world universities must work in partnership with each other, the better to serve global society and in partnership too with policy-makers, with industry and commerce and with philanthropists and charities. What universities contribute to these partnerships is three-fold: our educated graduates, our research and our long-term perspective. In economic hard times who will look to the long term? Governments will not; stock-markets cannot; businesses dare not. Universities are enabled by our autonomy from outside pressures to discharge this responsibility".
Indeed his personal philosophy of life is consistent. He believes that life is full of opportunities and requires us to be focused on that future opportunity and not to be deflected by short term vicissitudes.
Notwithstanding his very full life, Sir Leszek perhaps remarkably finds time to pursue his personal interests as a keen student of military history who enjoys visiting ancient battlefields and as an accomplished painter.
Mr Pro-Chancellor, it is my honour and privilege to present to you Sir Leszek Borysiewicz for the award of Doctor of Science honoris causa.
Citation written and delivered by Professor Michael Wilkinson, the Public Orator of the University.