Main content start
Daisaku IKEDA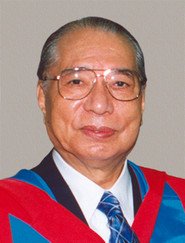 151st
Congregation
(1996)
Daisaku IKEDA
Doctor of Letters
honoris causa
The Public Orator Professor Mimi Chan, M.A., M.PHIL., wrote and delivered the following citation:
Religious leader, philosopher, author, poet, international humanitarian, educationalist, a prominent figure in the cultural scene of the world: these names can only begin to sum up the many attributes and achievements of President Daisaku Ikeda, truly a Renaissance man. His achievements have merited international attention and acclaim. But it is chiefly in his capacity as an educator, a founder of a University and as a friend of the University of Hong Kong, that we wish to honour him.
Born and educated in Tokyo, Daisaku Ikeda grew to manhood during the dark years of the Second World War. He lost his eldest brother in combat. It was in 1947 that he met and became a disciple of Josei Toda, a leading figure in the Buddhist movement, Soka Gakkai, which aimed at interpreting and applying the teachings of the 12th Century Buddhist scholar, Nichiren. Ikeda has himself written:
'There are themes to human life
and when one has discovered his own particular theme and as an actor given it the fullest expression,a mighty dream will be born.'
The meeting with Toda was to be the turning point in his life. He discovered his particular theme and sought to realize his "mighty dream". He had joined the Soka Gakkai movement when it was in its infancy. The movement emphasized pacifism and objected to the taking of human life. Because of this its leaders Tsunesaburo Makiguchi and Josei Toda had been harassed and imprisoned by the Japanese authorities during the War. With the coming of peace the movement gained momentum in Japan because its emphasis on peace, its opposition to nuclear weapons, and its belief in social justice found favour among a war-weary population seeking to come to terms with a new post-war social and economic order.
In 1960 Ikeda succeeded Toda to become the third president of Soka Gakkai. Under his leadership the movement embarked on a period of great innovation and expansion, both in education and culture. Soka established a large number of educational establishments from nursery, through primary to senior secondary schools throughout Japan's major cities. In recent years Soka kindergartens have been opened in Hong Kong, Singapore and Malaysia. On April 2, 1971 Soka University was opened, a few years after Daisaku Ikeda proposed its establishment.
In 1963 the Min-On Concert Association was founded to promote cultural exchange and to deepen understanding among people of different countries. It not only invites musical and performing groups from abroad to Japan but also organizes overseas tours of Japanese performers. Among world-renowned artists invited to Japan are the Vienna State Opera and the Royal Ballet.
The Tokyo Fuji Art Museum was established in 1983. The Museum houses approximately five thousand works of art from both East and West, ancient and modern. It pursues a wide spectrum of international artistic and cultural exchanges.
Soka Gakkai plays a vital part in the life of Japan through its educational institutions, its cultural centres and its daily newspaper. But our graduand has looked beyond the confines of Japan. The movement aims at fostering truly cosmopolitan outward-looking individuals. We can see this in the emphasis on educational and cultural exchanges. In the course of the 1970s Soka Gakkai became an international organization, and in January 1975 Daisaku Ikeda became president of Soka Gakkai International, which today has members in 128 countries.
As a staunch advocate of world peace Ikeda has travelled widely and published extensively in an effort to promote peace and international understanding. He has directed his energies in particular towards healing the rift between China and Japan and towards advocating a revitalized and strengthened United Nations. His efforts have won recognition in the form of countless awards and honours from countries and institutions around the world. Among these are the United Nations Peace Award (1983) and the Humanitarian Award of the United Nations High Commissioner for Refugees (1989). In his quest for international understanding and world peace he has travelled widely, conducted dialogues with distinguished figures in international affairs, culture and education such as Arnold Toynbee and Bryan Wilson; he has lectured at some of the most prestigious institutes of higher learning, including Harvard, Moscow State University and the Institute de France, giving a Buddhist perspective to cultural, educational, social and ecological issues. He is the recipient of honorary degrees and professorships from more than thirty academic institutions throughout the world, such as Beijing University and the University of the Philippines. He continues to build up new relationships with the international community. This year he will sign an agreement with the Hebrew University and he is scheduled to give lectures at Columbia University and Denver University.
The spirit of internationalism as well as the pursuit of excellence is very much in evidence in the evolution of Soka University. In only a quarter of a century - no more than a moment in the time scale of a university's history - Soka has developed into one of the most competitive and educationally progressive institutions in Japan. In terms of the number of students who passed the national lower examination last year it ranked 18th among over 1,000 Japanese universities. It has six faculties and presently 300 full-time faculty members and 7,700 students. It has a graduate school and five research institutes. And very importantly Soka has become one of the most outward - looking of Japanese universities. In 1985 it opened a European Language Training Centre in France; in 1987, a campus was established in California. Exchange arrangements have been established with some fifty overseas universities including the University of Hong Kong. To President Ikeda our institution is beholden for donations of valuable Japanese books and scholarships which have enabled our students of Japanese to study at Soka. Soka means "value creation"; education contributes to benefit, good and beauty. The educational policy of Soka University is based on the greatest respect for human dignity; its objective is to foster creative people who can utilize their academic and technical knowledge to the fullest. On the bronze statues in front of the University's Liberal Arts Building are inscribed the words:
For what purpose should one cultivate wisdom? May you always ask yourself this question. Only labour and devotion to one's mission give life its worth.
Our graduand has pursued his mission with labour and devotion. Daisaku Ikeda believes we do not write poetry; we sing it. In one of his many poems he sings:
"For the sake of life and culture,
through thought and action we will create,
and put into practice measures for relief.
Not a bridge of rainbows, a thing of dreams,
but finer than rainbows, lovelier,
a bridge adamantine and indestructible we will build."
Among his many and varied achievements he has built a university.
Mr. Chancellor, it is my pleasure to request you to confer the degree of Doctor of Letters, honoris causa on President Daisaku Ikeda in recognition of his outstanding services to education in Asia.