Main content start
Stanley HO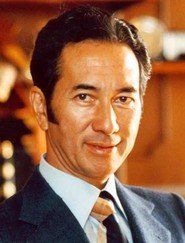 130th
Congregation
(1987)
Stanley HO
Doctor of Social Sciences
honoris causa
Mr Chancellor, the Italian poet, Dino Campana, wrote the following words:
"L'albero scilla a tocchi nel silenzio. Una tenue luce bianca e verde cade dall'albero...II quadro bianco della lanterna in alto Illumina il segreto notturno."
"The mast swings like a pendulum in the silence. A faint greenish white light falls from the mast...The white square of the ship's light on high Illuminates the secret of the night."
These are words which evoke a dramatic scene of Stanley Ho's early life. Trading from Macau on junks, he helped to bring food to the neutral colony during the war, in exchange for whatever spare parts or equipment the Macau government could barter. Even the Japanese invaders of south China had to be neutral in Macau, and if they wanted wood oil for their ships, they sought it through barter, exchanging cotton yarn with "Free China" through a Macau company for which Stanley Ho worked. These were night missions, conducted through waters under the trigger-happy control of different nervous forces. And the secret of these nights was their imminent danger. On the last of these particular excursions, indeed, Stanley Ho's vessel was attacked by armed brigands, the pilot was killed, and the vessel escaped from the bloodshed that had already begun only as a result of Dr Ho's quick thinking when the marauders fell out over their spoils.
Mr Chancellor, we may wonder what led Stanley Ho to this midnight encounter, and what path led from there to his present position. It is a story intertwined with that of Hong Kong itself. His grandfather was Ho Fook, the comprador of Jardine's, and his great uncle, Sir Robert Ho Tung. Thus his family was one of those that played that crucial historical role as a bridge between the old Hongs and the people of Hong Kong at large. Dr Ho remembers his boyhood home. The two large houses in MacDonnell Road are clear in his mind, with their long white corridors, and half a mile of lawns and garden for the children to play in. There was the summer house in Stanley. There were motor vehicles, servants, jewellery, recollected laughter of halcyon days.
But after Ho Fook died, Dr Ho's father's business collapsed and he left Hong Kong. Creditors foreclosed on all the property and Stanley's mother, Flora, was left in difficulty and distress. Stanley himself had not previously been, a model student, but now he applied himself with a will, and was able to continue beyond the third form at Queen's College by winning a gvernment scholarship. Without this his mother would not have been able to afford to allow him to continue at school. Stanley went on to be admitted to the University of Hong Kong. Again it was only possible for him to take up the place thanks to a University scholarship. He was short of money to the point at which as a student he had to run away from the situation of being obliged to buy a cup of coffee for girls in his class.
He switched from the humanities to the sciences, and progressed well. He actually enjoyed his examinations here! But in his third year, before he could obtain his degree, came the Japanese. And in those frightening days of military action in Hong Kong he acted as an air-raid warden. Even in the short period of resistance, many died, including several of Stanley's own cousins and relatives. He decided, after the Japanese take-over, to escape to neutral Macau on a small junk. He had with him his first earnings: $10 for being an air-raid warden.
In Macau, he joined the Macau Cooperative Company, the ownership of which was shared between Chinese, Japanese and Portuguese interests. This was the time of the night adventures which I have already described. After some months of this work, the young Stanley Ho was able to bring his mother and sister to join him in Macau. The work continued; flour, rice and beans were brought from Canton in exchange for machinery and equipment. In these uncertain times, by his industry and ingenuity, Stanley Ho, with no help from the wealthy branches of his family, made his way up from a situation of poverty to make his first million by the age of twenty-four.
Meanwhile, his mother had contracted tuberculosis, and never really recovered from this disease. Stanley Ho, having in his short life seen both riches and poverty, both good fortune and suffering, resolved to make good, and do good.
Already successful in Macau, he returned to Hong Kong in 1947. His company, the Agencia Commercial Progresso, engaged in ship-breaking and dealt in piece goods. From 1948, he was Managing Director of the Hong Kong Match Factory. He traded with Korea during the Korean War.
Dr Ho describes himself as a merchant, and I have sketched for you, Mr Chancellor, how extensive, diverse and ingenious were his trading activities. But in 1957 he turned his attention to real estate. He established the Lee On Construction Company, and Metro Realty. His business interests continued to broaden and prosper. In 1962, his syndicate obtained the gambling franchise in Macau, predicting the importance of developing these activities as a magnet for tourism, and an engine for the development of Macau.
Stanley Ho is the Chairman or Managing Director of many companies, especially in Hong Kong and Macau. They include Metro Realty, Shun Tak Shipping, Far East Hydrofoil, Excelsior Hotels and Investments, as well as many other interests not only in Hong Kong and Macau, but also in Australia, the Philippines, Indonesia and Spain. He is Chairman of the Real Estate Developers' Association of Hong Kong, a Director of the Community Chest, President of the Hong Kong Ballet Group, Vice-Chairman of the Shek O Health Centre, Honorary President of the Hong Kong Lawn Tennis Association and the Amateur Basketball Association, member of the Board of Trustees of the University of East Asia, and of the Council of this University.
As you see, Mr Chancellor, Stanley Ho has certainly fulfilled his vow to make good. Equally impressive, however, is the way in which he has also done good. His charitable contributions have been generous and extensive. It would be impossible to go through them all today. But they include donations to schools and education funds, such as to the Workers' Children Schools in Hong Kong and Macau, to the Police Children's Education Trust. He supports the Guides and the Scouts, and the Hong Kong Academy for Performing Arts. He has contributed to hospitals, and associations for rehabilitating the disabled. He is President of the RSPCA in Hong Kong. He has donated $20 million for the construction of the Macau Forum sports stadium. He has sponsored important sporting events, especially for the young. Indeed, though his only recreation while himself a student was on the green baize of the billiards table in Ricci Hall, it is his generosity in contributing tens of millions of dollars over the years which has provided such splendid sports facilities for today's students at this University, including the Stanley Ho Sports Centre at Sandy Bay, and the Flora Ho Sports Centre, named in memory of his mother. These donations show Stanley Ho's conviction that our life should involve hard work, certainly, care for others, certainly, but also fun!
Many others, besides ourselves, have wished to acknowledge the importance of his contributions to economic development, as well as his generosity. These many honours include, from Portugal. Commander of the Order of Benefaction and Grand Officer of the Order of Prince Henry the Navigator; from Britain, Commander of the Order of St John granted by the Most Venerable Order of the Hospital of St John of Jerusalem, and from France, Chevalier de la Legion d'Honneur.
Mr Chancellor, for his services to education in Hong Kong and Macau, and for his contribution to the economic development of the territories, I present to you , who escaped the brigands of that midnight encounter to see extremes of prosperity and of misfortune, who respects industry but encourages fun, hard working and generous, inventive and daring, our alumnus, our friend, for the award of the degree of Doctor of Social Sciences honoris causa.
Citation written and delivered by Professor Francis Charles Timothy Moore, the Public Orator.