Main content start
David SIN Wai Kin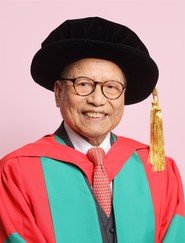 201st
Congregation
(2019)
David SIN Wai Kin
Doctor of Social Sciences
honoris causa
Madam Chancellor,
What do the Peak Tower, the Hong Kong Convention and Exhibition Centre, and the recently-completed Xiqu Centre at the West Kowloon Cultural District have in common? These major construction projects were all undertaken by Hip Hing Construction Company, a firm that was founded by Dr David Sin Wai Kin in 1961. Aged only thirty-two at the time, Dr Sin developed a close business relationship with his founding partners that would eventually lead in 1970 to the formation of New World Development Company, of which he then acted as executive director until 2012. Hip Hing and New World have together been responsible for literally changing the face of urban Hong Kong, completing hundreds of construction and development projects spanning commercial, community, industrial, healthcare, hotel, retail, education, and residential buildings over the last five decades. Even our HKU staff quarters at Rodrigues Court were constructed by Hip Hing. But it is not for his role in the development of modern Hong Kong that we are honouring Dr Sin today. Rather, we wish to pay tribute to his philanthropic leadership and generosity in supporting higher education in Hong Kong and China, for he has used the profits of his business acumen for the betterment of the lives of others through the liberality of his donations in the educational field.
Sin Wai Kin was born in Foshan, Guangdong province, in 1929. His was an 'ordinary' family of four brothers and two sisters, and he has happy memories of the simple pleasure of playing marbles with his classmates in Foshan until his early education was cut short by the Japanese Occupation in 1937. He and his siblings were taken by their mother on a small boat to Jiangmen, then by motor boat to Hong Kong via Macau, where he completed his primary schooling before Hong Kong was also occupied in late 1941. The whole family then moved to Macau where Dr Sin helped in his father's pawn shop for several years, but in 1945 he decided to change his career path and work in a jewellery company because, as he explains in his own words, 'In a pawn shop, you always see clients with sad faces, but in a jewellery shop, you only ever see happy faces'. This was a turning point in his life, for he quickly learned the very particular skills of sorting, classifying and grading diamonds, as well as more general knowledge in accounting and merchandising. He began investing in the property market in a small way in the early 1950s, but before long his careful investments grew to such an extent that he was able to establish Hip Hing Construction Company with two friends. He also continued to work in the diamond trade, and in 1977 founded his own jewellery manufacturing business, Myer Jewelry Manufacturer Limited, that quickly grew to become one of the world's largest jewellery manufacturers, with major markets in America, Europe and Japan. His business philosophy emphasised integrity and quality, and an insistence that each piece of jewellery should display excellence in design and workmanship. So from the largest development project to the smallest piece of jewellery, Dr Sin insists on only the highest standards of workmanship. As well as being a leader in the construction and jewellery industries, Dr Sin has also been vice-chairman of the Miramar Hotel and Investment Company, and a director of Hang Seng Bank.
Dr Sin's enormous success as a businessman has been the result of hard work and determination, rather than a university education. Even though he missed the chance of receiving higher education in the post-war years, he nevertheless recognises the need to support young people with a passion to learn, but who have limited opportunities to pursue their dreams. After being appointed to the Council of the Chinese University of Hong Kong in 1987, Dr Sin began making philanthropic contributions to higher education in Hong Kong and Guangdong through the Sin Wai Kin Foundation. It has been said of Dr Sin that 'he spares no effort in charity', and his donations over the last thirty years to institutions of higher learning have been continuous and extremely generous. At Zhongshan University in Guangzhou, he was instrumental in establishing the Centre for Advanced Academic Research in 1988, and has more recently donated funds in support of disadvantaged students. At the Chinese University of Hong Kong, Dr Sin established the Sin Wai Kin Professorship of Chinese Culture (2012) and the Sin Wai Kin Golden Jubilee Scholarships in the Arts, History and Philosophy (2013); at the Hong Kong University of Science and Technology, he endowed the Sin Wai Kin Professorship-at-Large in Chinese Culture within the Institute for Advanced Study; and at the Hang Seng University of Hong Kong, he has recently established the Sin Wai Kin Distinguished Professorship of Chinese Culture and Translation. In our own university, Dr Sin has established the Sin Wai Kin Distinguished Visiting Professorship in the Humanities (2011), an endowment which has allowed visits by some of the world's most distinguished scholars in the humanities, including the late Roderick MacFarquhar, Jay Winter, Zhang Guangda and Wang Gungwu. Dr Sin has also endowed the Sin Wai Kin Junior Fellows Programme in the Hong Kong Institute for Humanities and Social Sciences, in support of early career scholars wishing to conduct research at HKU. In recognition of his philanthropic work in the field of higher education, Dr Sin was awarded an honorary doctorate by the Chinese University of Hong Kong in 1994, and honorary fellowships at the Open University of Hong Kong (2008), the University of Hong Kong (2011) and the Hong Kong University of Science and Technology (2014). He is an Honorary Advisor to Zhongshan University, and has been recognised as an Honorary Citizen of his home town, Foshan.
Madam Chancellor, those of us who work in the humanities and social sciences often feel that we are the poor cousins of our colleagues in the STEM disciplines, for they seem to attract philanthropic funding with such effortless ease, so we are very grateful to have a champion such as Dr Sin who firmly believes in the importance of supporting our scholarly work. In explaining his preference for the humanities, Dr Sin has said, 'I believe the humanities can enrich and illuminate our lives. Literature, music, history, philosophy, law, politics, social sciences, architecture and the arts are all important.' For more than thirty years Dr Sin has been providing a shining example of philanthropy which he hopes will inspire other benefactors to pay more attention to those neglected areas of scholarship that need the support of the wider community. He believes that 'HKU embodies many of the values of the people and society of Hong Kong' and he has supported those values in a very concrete way. We are proud to number Dr Sin among our benefactors and as a member of the university family.
Madam Chancellor, in recognition of his philanthropic leadership and generosity in supporting higher education in Hong Kong and the Mainland, it is my honour and privilege to present to you Dr David Sin Wai Kin for the degree of Doctor of Social Sciences honoris causa.
Citation written and delivered by Dr Peter Cunich, the Public Orator of the University.