Main content start
Edmund TSE Sze Wing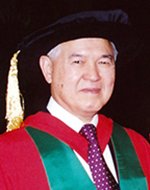 163rd
Congregation
(2002)
Edmund TSE Sze Wing
Doctor of Social Sciences
honoris causa
In his oration on Professor Siu Yum Tong at the Honorary Degrees Congregation in 1990, Professor Ian Davies, our current Vice-Chancellor, and then Public Orator spoke of the pursuit of pure mathematics as "virtually a mystical activity", and how to "lesser mortals", it will "remain forever a mystery". As an outstanding graduate in Mathematics from the University of Hong Kong, Edmund Tse Sze Wing belongs to that select group for whom numbers are a constant source of intellectual stimulation and pleasure. In his long and distinguished career in the insurance industry after graduation, Edmund Tse translated that mystical pursuit of numbers into a practical preoccupation, serving not only his company, American International Assurance, popularly known as AIA, but also members of the Hong Kong community, and the citizens of more than one hundred countries around the world. Mr Pro-Chancellor, if the joys of mathematics offer the purest of intellectual pleasures, as its practitioners have deemed, the uses of insurance have a steady and civilising effect on our everyday lives. The ancients recommended philosophy as our only prophylactic against misfortune. In modern times, we have philosophy - and insurance.
His entry into the insurance industry was not something Edmund Tse deliberately planned. In his final year as an undergraduate at this University, he was recommended by his teacher, Professor Manda, as a candidate to AIA which was at that time looking for a bright mathematician and a student leader to join the company. What began as a fortuitous encounter grew into a partnership of more than four decades which brought success and considerable benefits to both parties. As Edmund Tse rose steadily and progressively through the corporate hierarchy till he reached the pinnacle as Chairman and Chief Executive Officer which he occupies today, he also helped to build AIA into the largest life insurance company in Southeast Asia, and the training ground for insurance professionals not only in Hong Kong, but the entire Asian region. At present, Edmund Tse is also Senior Vice-Chairman of American International Group or AIG, and is in charge of its worldwide life insurance operations in more than 130 countries and jurisdictions. He may thus be said to be playing a significant role in the task of making the whole world a safer place. Edmund Tse's career is the model of one man's distinction and professional achievement; it also bears eloquent witness to the ability and energy of the Hong Kong professional to take the lead in the competitive environment of transnational business, an ability and energy which are the driving forces of Hong Kong in its recent history.
Mr Pro-Chancellor, leaders are very often pioneers, and when Edmund Tse first started out, he had to overcome a great deal of prejudice, especially among the Chinese community, against the very concept of buying insurance. His strategy, which turned out to be the basis of his success, was to appeal to the frugality and desire for security of the Chinese people by emphasising the purchase of insurance as a savings device, and to guarantee his clients steady and long-term returns on their hard-earned cash. This was a strategy which stood him in good stead, not only in Hong Kong, but also in Taiwan where he worked from 1970 to 1983, building up Nan Shan Life Insurance, an affiliate of American International Group, till he became its President and Managing Director in 1975.
It must have been during this time that Edmund Tse successfully integrated his technical skill with numbers with his managerial expertise and business acumen. On his return to Hong Kong, he continued his work in expanding the business of AIA and AIG. He can be described as the first locally-trained Hong Kong Chinese to have risen to the pinnacle of power in an international insurance and financial services corporation ranked amongst the top twenty corporations in the Forbes Super 100 and Fortune Global 500. Edmund Tse has shown a strong sense of belonging to the company who was his first employer in refusing all lucrative blandishments to leave the company. This is an ethic of service and commitment which is increasingly rare in a global business environment of executive mobility. The bond between Edmund Tse and AIA could almost be described as "familial"; indeed, one of his daughters has followed in his footsteps and joined AIG in Hong Kong after her education in the United States.
Edmund Tse's devotion extends beyond that of his own company to the community of insurance professionals. He is also the longest serving member on the Insurance Advisory Committee to the Hong Kong Government, and more recently, as a member of the Hong Kong Mandatory Provident Fund Advisory Board, he played an important role by providing his expertise and professional counsel to the government. In working to promote the insurance industry, Edmund Tse is also dedicated to promoting the interests of Hong Kong as a leading international financial centre.
Mr Pro-Chancellor, let me quote two well-known statements from the Analects: "Now the man with perfect virtue, wishing to be established himself, seeks also to establish others; wishing to be enlarged himself, seeks also to enlarge others". His philanthropic and charity work for AIG confirms Edmund Tse as the exemplum of this Confucian doctrine. His belief has always been that education is the foundation of society, and that as a leader in society today, he has the responsibility to help foster the potential of the young people of Hong Kong to become future leaders. This University is deeply indebted to Mr Tse for his generous commitment to the C V Starr Scholarship Fund, the Institute of Mathematics, and a residential hall project, as well as grants to a number of other training and scholarly programmes.
Edmund Tse's benevolence, Mr Pro-Chancellor, extends beyond his alma mater and Hong Kong to mainland China, and to the resourcing of projects besides the educational. As Director of the Asia Advisory Board of Project HOPE, he ensured that funds were channelled towards the establishing of the Shanghai Children's Medical Centre, a state-of-the-art pediatric teaching hospital which opened in 1998. But perhaps the project which involved Edmund Tse in some of the toughest negotiations he had conducted was when he helped the State Bureau of Cultural Relics to buy back ten bronze window panels which were looted from the Summer Palace in Beijing during the Boxer Rebellion and had been missing for eighty years. His vigorous and very personal involvement in these negotiations show his commitment to the preservation of China's cultural heritage which well complements his evident dedication to the social well-being of the nation through improving its educational and medical provisions.
In his personal achievement and professional and business achievements, and philanthropic activities, Mr Edmund Tse exemplifies the cultivation of the whole person. He is a model to present and future students at this university gifted with a desire both to succeed and to serve. Mr Pro-Chancellor, I am pleased to present Edmund Tse Sze Wing for the award of the degree of Doctor of Social Sciences honoris causa.
Legge, J. The Chinese Classics, with a translation, critical and exegetical notes, prolegomena, and copious indexes (Part I Confucian Analects, The Great Learning and The Doctrine of the Mean), 2nd ed. (Oxford: Clarendon Press, 1893), p.194.
Citation written and delivered by Dr Elaine Ho Yee Lin, the Public Orator.