Main content start
HKU confers Honorary Degrees upon five outstanding individuals at the 190th Congregation

HKU confers Honorary Degrees upon five outstanding individuals at the 190th Congregation
March 18, 2014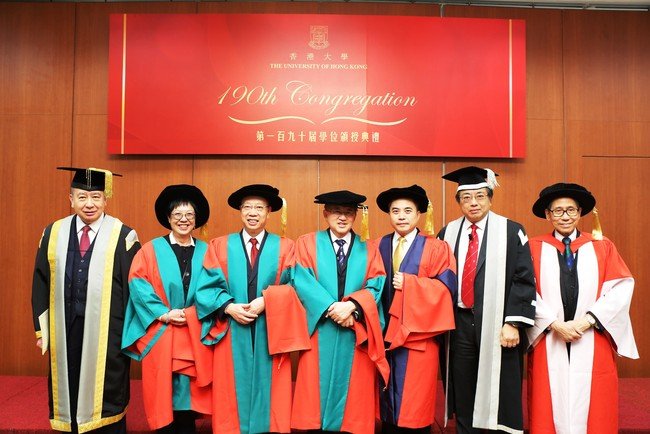 The Pro-Chancellor of the University of Hong Kong (HKU) Dr the Honourable Sir David Li Kwok Po conferred honorary degrees upon five outstanding individuals at the 190th Congregation held today (March 18, 2014) in Loke Yew Hall.
The honorary degree recipients are:
Doctor of Laws honoris causa
WONG Yan Lung
Doctor of Social Sciences honoris causa
HUANG Jiefu
Ann HUI On Wah
Walton LI Wai Tat
Thich Nhat Hanh
Honorary Degrees are awarded to individuals in recognition of their distinguished service and commitment to the University, the community, and to academia. They are also conferred to those who have made valuable intellectual, social and cultural contributions to society and the world.
Wong Yan Lung, Doctor of Laws honoris causa and former Secretary for Justice of Hong Kong, delivered the acceptance speech on behalf of the Honorary Graduates. Dr Wong said while "Has Hong Kong changed?" has become a question often heard and that changes are inevitable, there are three things to hold on to so as to take changes positively and courageously, they are: to go for integrity on essentials, for liberty on non-essentials, and for charity on all things.
Dr Wong said the recent brutal attack against former editor of Ming Pao and HKU alumni Mr Kevin Lau has been alarming to society that its core consensus was wounded.
He said: "The alarm bell is ringing loud, culminating in an equally intense determination to ensure that none of our cherished common values will be impaired."
"When violence strikes to subdue legitimate rights, it is striking at the very fabric of our civil society, and our community has rightly responded with united and strong condemnation. The community must react with the strong hands of the law: let no criminal go unpunished."
He said the essentials, the indisputable one the rule of law, must be guarded at all costs against invasion and the more subtle erosion, and that the judicial independence, which is the bedrock, should be cherished and guarded.
Dr Wong further spoke on liberty. He has heard lamentations that some of the young people today shun competition, particularly competition coming from outside of Hong Kong.
"They resort to different forms of protectionism or escapism, and camouflage them by grand facade. The 'indigenous culture' and 'the Hong Kong identity', which are of course precious in themselves, are unfortunately deployed as a convenient exit from the race that must be run. Instead of seeking 'globalisation', some have retired into 'tribalisation'." Dr Wong said.
"On this type of soil, prejudice and discrimination, particularly on account of race, culture or background, spring up like weeds. Legitimate differences, fanned by some unfortunate scramble for limited resources, escalate into causes for intolerance, blame, repulsion, and even open conflicts. That will certainly bring Hong Kong down." He added.
Dr Wong concluded that liberty on non-essentials should allow one to respect, regardless of races, cultures or places of origin, or people who think differently, speak differently or behave differently.
"Liberty on non-essentials also breaks the inertia to changes within oneself. It is the lifeline to creativity. It prepares the mind to be stimulated upon encountering differences and changes. It sets the mind free to depart from the old and conformist ways. It is the energy in the new waves that works powerfully within the person." He said.
Finally, Dr Wong said the virtue above all is charity: which is the attitude of the individuals and the culture of the community to being keen to grab or dare to give.
"Amidst the changes and uncertainties, if we adorn all things with charity, there is still tremendous hope for Hong Kong." He said.