Main content start
HKU confers Honorary Degrees upon Professor Shinya Yamanaka at the 191st Congregation

HKU confers Honorary Degrees upon Professor Shinya Yamanaka at the 191st Congregation
October 18, 2014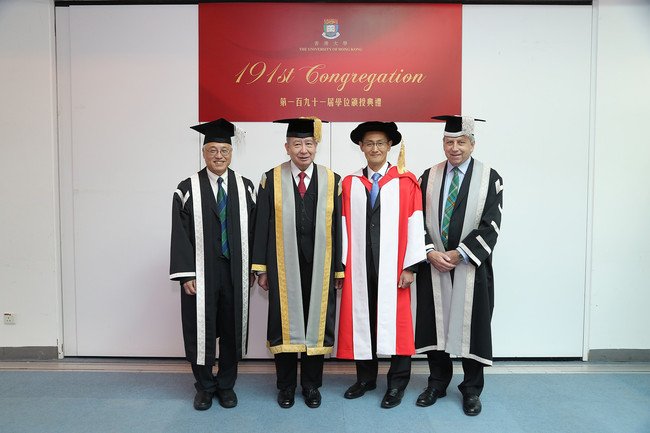 Professor Shinya YAMANAKA, 2012 Nobel Laureate in Physiology or Medicine, was conferred the Doctor of Science honoris causa at the 191st Congregation of the University of Hong Kong (HKU) today (October 18, Saturday). HKU Pro-Chancellor Dr David Li Kwok Po officiated at the ceremony.
The Congregation was arranged in connection with the European Molecular Biology Organization (EMBO) Workshops at which Professor Yamanaka delivered a special keynote lecture entitled "Dissecting Human Reprogramming Toward Pluripotency" immediately after the Congregation ceremony.
Honorary Degrees are awarded to individuals in recognition of their distinguished service and commitment to the University, the community, and to academia. They are also conferred to those who have made valuable intellectual, social and cultural contributions to society and the world.
Biography of Professor Shinya YAMANAKA
Professor Shinya Yamanaka is most renowned for his discovery of induced pluripotent stem cells (iPSC), which are differentiated cells that have been reprogrammed back to the pluripotent state. He is Director of the Center for iPS Cell Research and Application (CiRA), which was founded in 2008 in response to his discovery, at Kyoto University, and named Senior Investigator at the Gladstone Institutes from 2007.
In recognition of his work, he has been the recipient of many prestigious awards including the Shaw Prize, the Albert Lasker Basic Medical Research Award, the Canada Gairdner International Award, the 100th Imperial Prize and Japan Academy Prize, the Kyoto Prize, the Wolf Prize, the Japan Order of Cultural Merit, and the Breakthrough Prize. The significance of iPSC was culminated with Professor Yamanaka being co-recipient of the Nobel Prize in Physiology or Medicine in 2012.
With the exception of a post-doctoral stay at the Gladstone Institutes from 1993 to 1996, he has lived and worked in Western Japan. Professor Yamanaka earned his Doctor of Medicine degree from Kobe University in 1987 and began residency in orthopedic surgery. He then went to earn his PhD from Osaka City University in 1993. It was at Gladstone where he first learned genetics and the use of embryonic stem cells. He returned to Osaka City University as staff until 1999 when he joined Nara Institute of Science and Technology and shifted his research focus to reprogramming. He was promoted to professor in 2003 and moved to Kyoto University in 2004.
He serves as a Foreign Associate of the National Academy of Sciences, Fellow of the American Association for Cancer Research, and Member of European Molecular Biology Organization, the Pontifical Academy of Sciences, and the Japan Academy.
Professor Yamanaka's primary vision is to bring iPSC technology to human health care. Therefore, at CiRA, he has recruited a mixture of scientists conducting basic research and clinicians applying this research to disparate diseases and advocates the science regularly to the general public.