Main content start
Rosie YOUNG Tse Tse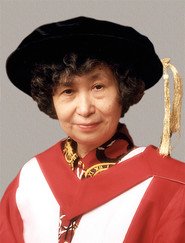 149th
Congregation
(1995)
Rosie YOUNG Tse Tse
Doctor of Science
honoris causa
Professor Rosie Margaret Young Tse Tse has taught many generations of medical students and given many practical years of clinical service to the community of Hong Kong working in public service at Queen Mary Hospital, which is the teaching hospital of the University of Hong Kong, where she has gained an international reputation in endocrinology.
Born in 1930, she is an HKU graduate who rose to become a Dean of the Faculty of Medicine and a Pro-Vice-Chancellor of the University. Her numerous public appointments include being chairman of the Medical Council of Hong Kong, chairman of the Education Commission and a member of the Hospital Authority.
She is additionally a Justice of the Peace and an honorary fellow of Newham College at the University of Cambridge. Professor Young is a member of many overseas medical organisations and has lectured in many countries in the world, including the USA, Australia, UK, Singapore and Malaysia. A Fellow of the Royal College of Physicians of London and recently made a council member of the Royal Australasian College of Physicians, she was awarded the Most Excellent Order of the British Empire (OBE) in 1987.
In recognition of her contributions, the University has resolved to confer upon her the degree of Doctor of Science honoris causa.