Main content start
Lawrence CHAN Chin Bong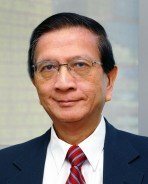 182nd
Congregation
(2010)
Lawrence CHAN Chin Bong
Doctor of Science
honoris causa
Professor Lawrence Chan Chin Bong is an alumnus of HKU, receiving his MBBS in 1966 and his DSc in 1993. He is currently Professor of Medicine, Molecular & Cellular Biology, and Biochemistry, as well as Betty Rutherford Chair for Diabetes Research at Baylor College of Medicine in Houston, Texas.
For his groundbreaking contributions to the areas of lipoprotein/lipid/carbohydrate metabolism and diabetes, and for his long dedication to research in the field of endocrinology, Professor Chan has received numerous North American awards. These include, inter alia, the Louis N Katz Young Investigator Prize of the American Heart Association (1977), an Established Investigator Award of the American Heart Association (1974-1979) and the MERIT Award from the National Institutes of Health (1989-1999). He received the Michael E DeBakey Excellence in Research Award twice, first in 2003 for basic science, and again in 2009 for translational research. He also received the Heinrich Wieland Prize from Germany (1988, an award conferred yearly to one scientist in the world for outstanding research in lipid-related fields).
Most significantly, Professor Chan was presented with the Edwin B Astwood Award in 2007, regarded as one of the most prestigious awards in the field of endocrinology and metabolism.
Professor Chan is the Director of the National Institutes of Health (NIH)-Diabetes and Endocrinology Research Center (DERC) as well as the Chief of the Division of Diabetes, Endocrinology and Metabolism in the Department of Medicine. He has been an Associate Editor for a number of prestigious international journals, including Metabolism, Journal of Lipid Research, and Circulation, and has also served on the editorial board of other international biomedical journals.
Professor Chan has also remained loyal to his alma mater, returning repeatedly to deliver plenary lectures at conferences, contributing to joint research projects and helping with the mentoring our postgraduate students.
In recognition of his contributions to medicine and academia, the University has resolved to confer upon him the degree of Doctor of Science honoris causa.