Main content start
Mary Gray RODRIGUES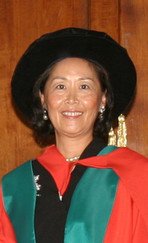 169th
Congregation
(2004)
Mary Gray RODRIGUES
Doctor of Social Sciences
honoris causa
Mrs Mary Gray Rodrigues is a graduate of HKU who has remained closely committed to her alma mater. She has served the University in various roles for twenty-five years, including her involvement as Convocation Chairman and Council member for almost a decade.
During her chairmanship of Convocation, she played a pivotal role in re-defining how graduates help their alma mater. She pioneered a more systematic approach to graduates' contributions to the University. This included an affinity credit card which, since its inception in 1993, has brought in some HK$52 million in funds to the HKU Foundation for research and academic development of the University.
She has also helped strengthen bonds between town and gown. She had made good use of her professional and personal network to encourage graduates to offer their expertise and connections to the benefit of the University. She has herself exemplified such contributions in her memberships on various university committees.
In recognition of her contribution, the University has resolved to confer upon her the degree of Doctor of Social Sciences honoris causa.