Main content start
Charles LEE Yeh Kwong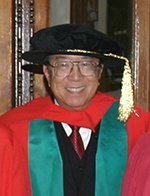 171st
Congregation
(2005)
Charles LEE Yeh Kwong
Doctor of Social Sciences
honoris causa
Dr Charles Lee Yeh Kwong is the Chairperson of Hong Kong Exchanges and Clearing Limited, the Mandatory Provident Fund Schemes Authority and the Hong Kong Arts Festival Society Limited. He is also co-founder of Woo Kwan Lee & Lo, one of Hong Kong's leading solicitors' firms.
During his tenure as Chairman of the Stock Exchange of Hong Kong Limited, Dr Lee initiated a series of reforms that would modernise the stock exchange's operations, attract listings from Mainland enterprises, and also reinforce Hong Kong's position as an international finance centre.
In 1998, Dr Lee was appointed by the Hong Kong Special Administrative Region Government to coordinate the formation of the Mandatory Provident Fund Schemes Authority.
Dr Lee was appointed Justice of the Peace in 1993, and awarded the Gold Bauhinia Star in 2002.
In recognition of his contribution to the community of Hong Kong, the University has resolved to confer upon him the degree of Doctor of Social Sciences honoris causa.