Main content start
Henry CHENG Kar Shun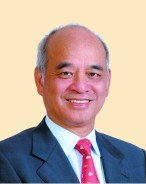 187th
Congregation
(2012)
Henry CHENG Kar Shun
Doctor of Social Sciences
honoris causa
Dr Henry Cheng Kar-shun is Chairman and Executive Director of New World Development Company Limited and Chow Tai Fook Jewellery Group Limited. Dr Cheng is also a Standing Committee Member of the Eleventh Chinese People's Political Consultative Conference. He holds an MBA, a DBA from Johnson and Wales University, and an LLD from the University of Western Ontario (Western).
Dr Cheng has been a long-time advocate of higher education in Hong Kong and the Mainland. He has established the New World/Harvard Kennedy School of Government Fellows Programme and the New World Mathematics Awards, and co-established the Cheng Yu Tung Management Institute with Western Ontario's Richard Ivey School of Business. He is Honorary Chairman of Chow Tai Fook Charity Foundation, the New World Group Charity Foundation, the Advisory Council of The Better Hong Kong Foundation, and the Wu Zhi Qiao (Bridge to China) Charitable Foundation. He is also a Director of the Cheng Yu Tung Foundation, which has supported research, academic and campus development at the University of Hong Kong.
Dr Cheng was awarded the Gold Bauhinia Star in 2001 and the Legion of Honour by the French Government in 2005.
In recognition of his contributions to Hong Kong and higher education, the University has resolved to confer upon him the degree of Doctor of Social Sciences honoris causa.