Main content start
Colin LAM Ko Yin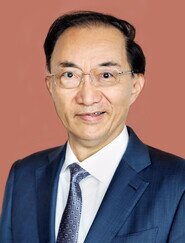 209th
Congregation
(2023)
Colin LAM Ko Yin
Doctor of Social Sciences
honoris causa
Dr Colin Lam Ko Yin is the Chairman of the Hong Kong Ferry (Holdings) Co Ltd, the Vice Chairman of Henderson Land Development Co Ltd, and a Director of the Hong Kong and China Gas Co Ltd, and of Miramar Hotel and Investment Co Ltd. Dr Lam has over 48 years' experience in banking and property development in Hong Kong.
Dr Lam holds a BSc degree from the University of Hong Kong, was awarded an Honorary University Fellowship in 2008 and honoured as a Distinguished Alumni by the Faculty of Science in 2009.
At the University, he serves as Deputy Chairman of the HKU Foundation, on the Boards of Trustees for the Staff Provident Fund, Staff Terminal Benefits Scheme and Staff Retirement Scheme, and as a member of the Disbursement Committee and Investment Sub-committee.
Dr Lam also lends his expertise and counsel to many other universities, including, inter alia, as Honorary Court member of Hong Kong Baptist University, Court member of the Hong Kong University of Science and Technology (HKUST) and the City University of Hong Kong, Director of the Fudan University Education Development Foundation and Honorary Director of the Beijing University; as well as to renowned philanthropic organisations, such as the Chi Wah Foundation Ltd, the Lee Shau Kee Foundation Ltd, and the Pei Hua Education Foundation.
Dr Lam was awarded an Honorary Fellowship by the Chinese University of Hong Kong in 2019, and was conferred a degree of Doctor of Business (honoris causa) by Macquarie University in 2015, and of Doctor of Business Administration (honoris causa) by HKUST in 2021.
Dr Lam founded the Chi Wah Foundation Ltd in 1992, with a mission to promote education and help those in need. The Learning Commons at HKU was named after the Foundation, which also provides support for a great number of universities and middle schools in Mainland China, and overseas to universities such as Macquarie University in Australia and the University of British Columbia in Canada.
Dr Lam was awarded the Silver Bauhinia Star in 2017. He is a Fellow of the Chartered Institute of Logistics & Transport, and of the Hong Kong Institute of Directors, and a Director of the Union Hospital and of the Hong Kong Housing Settlers Corporation Ltd.
In recognition of his contributions to academia and the world, the University has resolved to confer upon him the degree of Doctor of Social Sciences honoris causa.