Main content start
Sir Run Run SHAW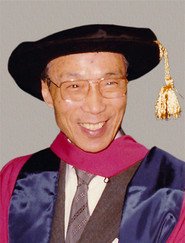 108th
Congregation
(1980)
Sir Run Run SHAW
Doctor of Laws
honoris causa
Sir Run Run Shaw's connection with the film industry started fifty years ago in Shanghai in the era of silent motion pictures. Today Sir Run Run is Chairman of Shaw Brothers (HK) Ltd which occupies an eminent position in international movie circles. He is also Vice-Chairman of Hong Kong Television Broadcasts Ltd and Managing Director of some forty local and overseas companies.
Sir Run Run is actively involved in community service, especially in the promotion of cultural activities, higher education, and medical services. He is President of the Hong Kong Red Cross Society; Vice-President of the Hong Kong Society for Rehabilitation; he has been a leading figure in the Community Chest since its inception; and is Chairman of both the Hong Kong Arts Festival Society and the Board of Governors of the Hong Kong Arts Centre.
He was awarded the Commander of the Order of the British Empire (CBE) in 1974 and a Knighthood in 1977.
In recognition of his achievements of pioneering a major industry in Hong Kong and his contribution to cultural activities and community service, the University has resolved to confer upon him the degree of Doctor of Laws honoris causa.