Main content start
MOU Tsung San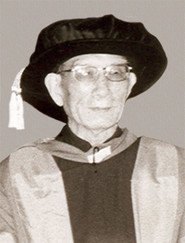 130th
Congregation
(1987)
MOU Tsung San
Doctor of Letters
honoris causa
The writing and scholarship of renowned Chinese philosopher Professor Mou Tsung San are highly acclaimed, not only in Mainland China and Taiwan but also at an international level. In the last 60 years he has brought a new perspective to the study of philosophy in China and he is widely regarded as being in the tradition of the grand masters after Tang Yung Tung and his own mentor, Hsiung Shih Li.
Professor Mou graduated from the Peking University in 1933 with a degree in philosophy. He then embarked on a teaching career and taught first at the West China Union University before moving on to the Central University and the Nanking University. In his early years his studies in the Book of Changes (I-Ching) under his famous teacher, Hsiung Shih Li, were complemented by wide ranging interests in western philosophy, including the works of Kant, Russell and Whitehead. Although in the 1940s he developed a special interest in Kant, he had recourse to his earlier grounding and used Russell's writings on Mathematics as the basis of the development of his own ideas, integrating in his own work the essence of Chinese and western philosophical traditions.
Professor Mou taught at the Tung Hai University and Taiwan Normal University for many years, and collaborated with three scholars, namely Chang Chun Mai, Tang Chun I and Hsu Fo Kuan who were, and still are, regarded as the pioneers of New Confucianism (Xin Ruxue) in the 20th century. In 1960 Professor Mou was invited by the University of Hong Kong to teach Chinese Philosophy. He later became the Chairman of the Department of Philosophy at the Chinese University until his formal retirement in 1974. Despite his advancing age, Professor Mou still lectures in the New Asia Institute of Chinese Studies, and occasionally at Taiwan Normal University. In recent years he has also devoted himself to translating into Chinese the main works of Kant, whom Professor Mou considers the best medium between Chinese and western philosophers.
In recognition of his contributions, the University has resolved to confer upon him the degree of Doctor of Letters honoris causa.