Main content start
Alexander James Smith MCFADZEAN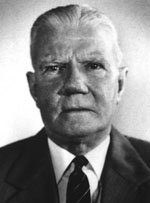 Alexander James Smith MCFADZEAN
Doctor of Science
honoris causa
Professor A J S McFadzean, Professor of Medicine from 1948 to 1974 and Emeritus Professor since his retirement on July 1, 1974, died in Glasgow on November 29, 1974 after a brief illness.
Professor McFadzean was born in Troon, Scotland, in 1914, and studied medicine at Glasgow University where he graduated with honours in 1936 and was awarded the Brunton Memorial Prize as the most distinguished graduate of the year. After qualifying he worked in the Glasgow Royal Infirmary, Hawkhead Mental Hospital, and Anlaby Road Hospital, Hull. At the beginning of World War II he volunteered for service with the RAMC and was commissioned in 1940, attaining the rank of Major. He was mentioned in despatches in 1942 and became a medical specialist with the Middle East Command in 1943. In 1946, he became a Member of the Royal College of Physicians of London and from 1945 to 1948 he was Lecturer and later Senior Lecturer in the Muirhead Department of Medicine, Glasgow University. He was elected a Fellow of the Royal College of Physicians of London in 1956 and was also a Fellow of the Royal Society of Edinburgh, the Royal Colleges of Physicians of Edinburgh and Australasia, the American College of Physicians and Honorary Fellow of the Royal College of Surgeons, Edinburgh. In 1959 Glasgow University awarded him the MD with Honours and the Bellahouston Gold Medal and the University conferred on him the honorary degree of D.Sc. in 1970. The Queen honoured him with the Most Excellent Order of the British Empire (OBE) in 1964.
When he first arrived at the University the Department of Medicine comprised a handful of staff and three rooms; there was no laboratory equipment to speak of. From this has grown the present Department with a staff of about fifty and two floors of offices and modern laboratories. As a teacher he had no peer; he stressed principles rather than detail and encouraged clear and logical thinking rather than recall. His clinical acumen and knowledge were legendary and these he shared unstintingly with colleagues and patients. A long admirer of Sir Thomas Lewis, the famous experimental physiologist, he introduced research to a Department in which none had existed. His own work on diseases of the liver and blood is world renowned and his publications number close to seventy. A tireless worker, he possessed the rare gift of being able to inspire others to do the same. Numerous committees, which included non-medical organizations, benefited from his advice. He was appointed Vice-Chancellor for a part of 1965 and from 1967 to 1972 he led, as Dean, the Faculty of Medicine through a period of rapid expansion. Shortly before his departure from Hong Kong the Hong Kong Medical Association elected him its first Honorary Life Member. He was a gifted orator with a Churchillian command of English: his address last year at the naming ceremony of the Patrick Manson Building at the University will attest to this. At a farewell party given in his honour last March by his colleagues and former students he named his three loyalties as the Department of Medicine, the Faculty of Medicine, and the University of Hong Kong, in that order. These will all bear testimony to his unique contributions to the advancement of medical knowledge and training in Hong Kong. He was not only a distinguished physician, medical educator, and scholar but a man of vision, integrity, and compassion. His numerous patients here over more than a quarter of a century will remember him with gratitude. Those of us who have been privileged to know him will feel a deep sense of loss with his passing. But his memory will remain and will be cherished with admiration, respect, and much affection.
Citation written and delivered by Professor Dafydd Meurig Emrys Evans, LLB, BCL, the Public Orator of the University.