Main content start
Her Royal Highness Princess Alexandra Helen Elizabeth Olga Christabel of Kent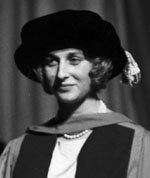 Mr Chancellor, the visit of Her Royal Highness Princess Alexandra marks the climax of our Golden Jubilee celebrations. We began this year by welcoming the Executive Council of the Association of Universities of the British Commonwealth which held meetings here under the chairmanship of our Vice-Chancellor. Before these distinguished academic figures departed, Professor Butterfield, then Vice-Chancellor of the University of Cambridge, Sir Douglas Logan, Principal of the University of London, and The Lord Bridges, Chancellor of Reading University, were among those who had joined our graduate body with honorary degrees. In March we held our domestic celebrations in which a large number of those who had graduated during the past fifty years participated. Honorary degrees were conferred upon several men who have distinguished themselves in this part of the world; five of them were our own graduates, one being the first graduate of this University. In September our celebrations were of an international character, over three hundred delegates coming from all over the world to participate in a learned Congress consisting of six symposia centred around lines of research being actively pursued within our walls. After the Congress, addresses were presented from over thirty universities and other academic institutions, and honorary degrees were conferred upon a number of distinguished scholars.
Our celebrations now culminate in the happy event of the visit of Her Royal Highness. The active part which Princess Alexandra plays in visiting Commonwealth countries and other lands is a source of admiration to us all, and the morale of the University has never been higher than when we learned that she would be present among us today. Such a visit from a member of the Royal Family gives expression to the link with our Patron, Her Majesty the Queen, and renders our Jubilee Year truly golden. We have happy memories of nine years ago when Her Royal Highness's mother, Princess Marina, Duchess of Kent, honoured us with a visit and was graciously pleased to confer her name on a new Hall for women undergraduates. With these memories, Mr. Chancellor, and with deep sentiments of pride and affection, we request that you confer upon Her Royal Highness Princess Alexandra the Honorary Degree of Doctor of Laws.
Citation written and delivered by Professor D Barker, MA, DPhil, the Public Orator of the University.