Main content start
Christopher CHENG Wai Chee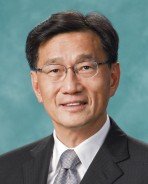 184th
Congregation
(2011)
Christopher CHENG Wai Chee
Doctor of Social Sciences
honoris causa
Mr Christopher Cheng Wai Chee is both an eminently successful businessman and energetic public servant. Indeed his business success has, to a significant extent, mirrored that of Hong Kong, first playing a leading role in furthering our textile trade and later turning his talents to property development. He is also typical of Hong Kong people who thrive on hard work and challenge.
He was educated in Hong Kong at St Joseph's College before leaving for the United States of America to obtain a BBA from the University of Notre Dame and an MBA from Columbia University - two of America's most prestigious universities.
Let me first try to summarise his extensive commercial activities. Having returned from studies overseas Christopher immediately involved himself in Wing Tai Corporation, a garment manufacturing company founded by his father in the 1950s. He successfully set to work on a massive expansion of its business. Under his dynamic leadership the company had, at different times, factories in Hong Kong, Mainland China, Singapore, Malaysia, Cambodia, Myanmar, Sri Lanka, the Malagassy Republic, Mauritius, Tunisia, the United States of America and the United Kingdom, manufacturing clothing for many international brands including Armani, Ralph Lauren, Debenhams, Gap and Uniqlo. At the height of its production, the company produced in its own factories and supplied to the retail sector more than forty million garments each year. Christopher, whose company owns amongst many others the famous Savile Row tailor Gieves and Hawkes, is particularly proud of the fact that his company was one of the first Hong Kong manufacturers successfully to establish national brands in the USA as early as the 1970s.
His focus of attention and energy has, however, in change with the times, more recently shifted to luxury property development in Hong Kong, Singapore and Malaysia under the flagship of Wing Tai Properties and commercial and industrial property development under the flagship Windsor Properties Holdings.
This in itself seems to be more than a full time occupation. Nonetheless, Christopher has found time and energy for an equally breathtaking involvement in public service. His keenness to serve the public was strongly influenced by his father who believed that one owed an important duty to strive towards the good of the community.
He has served as Chairman of the Hong Kong General Chamber of Commerce, as well as on the Town Planning Board, the Exchange Fund Advisory Committee (Chairman of its Governance Committee), the Securities and Futures Commission, the Hong Kong Trade Development Council, the Hong Kong Governor's Business Council and the Hong Kong Productivity Council. He was also a member of the Government's Central Policy Unit and a member of the Textiles Advisory Board and many others.
He tells me that he is especially proud of two achievements in the public sphere. First, while President of the Federation of Garment Manufacturers' Association, he worked closely with Government in successfully negotiating numerous international textile agreements, which, of course, played a very significant role in enhancing Hong Kong's prosperity. Secondly, whilst serving as Chairman of the Staff and Finance Committee of the Trade Development Council, he was responsible for introducing one of the earliest performance-based pay schemes amongst statutory bodies in Hong Kong. Such schemes now, of course, play a very important role in human resource management.
He has also shown a keen interest in the management of public services. This work has at times involved him in controversial issues. As a long serving member of the Public Service Commission, he provided wise advice to the Government on the formulation of human resource management and practices for the civil service which, of course, involve many sensitive issues. As Chairman of the Standing Committee on Judicial Salaries and Conditions of Service, Christopher had the sensitive task of determining whether, during the economic downturn, judicial salaries should be reduced just like those of civil servants and, as Chairman of the Competition Policy Review Committee, Christopher was called upon to advise on the hot potato whether a competition law should be introduced into Hong Kong.
Christopher has also shown great interest in and devoted much time to education. His firm belief in the importance of education was again inherited from his father who never completed his primary education but ensured that all his children gained university degrees. Christopher has held important advisory roles at Yale University, Columbia University, the University of Notre Dame, the University of Science and Technology, the Hong Kong Polytechnic University and Lingnan University. Closer to home he has served as a Council Member of this University for thirteen years, including a six year period as Chairman of its Human Resource Policy Committee. He has happily just been reappointed to the Council. He was also the founding Chairman of the Board of Versitech Ltd, HKU's flagship company established to facilitate technology transfer between town and gown. Holding a firm belief in the importance of our University's internationalization policy, he has generously established a fund to facilitate student exchange between Hong Kong and leading institutions in the USA.
He is also a Steward of the Hong Kong Jockey Club and owns a racehorse. Given his prestigious energy, I would rather have expected that he would also ride it!
For his sterling service to Hong Kong, Christopher was made a Justice of the Peace in 1985, awarded an Order of the British Empire in 1992 and a Gold Bauhinia Star in 2004.
Christopher is a remarkable man. He admits that he is hyper-active (indeed my frenetic lunch with him confirmed the fact) and tells me that he is a typical Chiu Chow man whose characteristic is "ping man" (拼命) - always trying to do too much!
He is not, alas, an alumnus of this University but he has somewhat redeemed himself by sending his daughter to be one of my favourite students.
Mr Pro-Chancellor, it is my honour and privilege to present to you Mr Christopher Cheng Wai Chee for the award of Doctor of Social Sciences honoris causa.
Citation written and delivered by Professor Michael Wilkinson, the Public Orator of the University.