Main content start
Sir Lindsay Tasman RIDE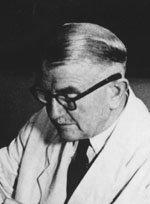 Sir Lindsay Tasman RIDE
Doctor of Laws
honoris causa
To introduce the first of today's tow distinguished graduands, Sir Lindsay Ride, I can do no better than to cite from the encomiums of which he has been the subject both at, and since, the Golden Jubilee of this University.
A former Chancellor's praise of our graduand included the observation "…the celebrations brought to us all in Hong Kong a fuller realization of the regard in which our Vice-Chancellor and this University are held by so many learned people and learned bodies beyond our shores". Another speaker remarked that whatever the merits and demerits of teachers migrating from one university to another, there was unquestionable virtue in retaining Lindsay Ride as long as possible at the helm.
And in truth he has served this University long and well. Coming to us in 1928, he remained until the end of 1941. Then, following an involuntary academic sabbatical of some four years, brought about by the King's enemies, he returned; and in 1949 was appointed Vice-Chancellor, which post he held longer than any previous holder of that office, and during an extremely difficult period in the history of the University. For this was our new beginning, after a war which had played havoc with us. And all who had to do with the problems of this resurgence know full well how invaluable were his services over those years.
A complete catalogue of the achievements of the Ride administration from 1950 to 1964 would be a formidable list to present to this gathering. A few of the more outstanding include: the securing of full formal recognition for degrees in civil, electrical and mechanical engineering and in architecture; the establishment of the University Press, with some six-score titles to its credit since its inauguration in 1953; the inception of extra-mural studies; the formation of the Institute of Oriental Studies; the addition of numerous important University buildings, providing student residences and amenities, central facilities and accommodation for teaching departments; and a brilliantly successful series of Jubilee Celebrations whose academic impact is still evident from the stream of publications resulting from discussions held in that September of our Jubilee Year.
But the intellect of a don and great administrative ability, a rare combination, are not the only qualities that mark our graduand. He has versatility too, which he has shown by success as a cricketer, happy blend of musician and musicologist, and soldier. As a soldier he saw service in two ways, in the first of which he was twice wounded while with the Australian Imperial Forces. In the Pacific War, he played a large part in the formation and running of the British Army Aid Group, that organization to whose efficiency many scores of people owe their safe conduct in journeys from this part of the world to Free China. And it is perhaps as a soldier that he acquired the spirit which made him over the years a valuable all-round member of the University elevens that fought so many rearguard actions ending in very occasional victories.
The University and the Colony alike are grateful for his devotion to music. He has been President and Conductor of the Hong Kong Singers, and is a member of the Hong Kong Philharmonic. Indeed, his enthusiasm for the art is such that, were he asked to choose the degree with which he would like to be honoured, he would surely have opted for one in music. The decision, however, rested not with him, and it is our wish, Mr Chancellor, that you confer on Lindsay Tasman Ride the degree of Doctor of Laws, honoris causa.
Citation written and delivered by Dr Leo D'Almada E Castro, CBE, QC, LLD, the Public Orator of the University.