Main content start
The Hon Richard Charles LEE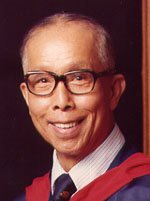 The Hon Richard Charles LEE
Doctor of Laws
honoris causa
The Public Orator, Dr. Leo D'Almada E Castro, C.B.E., Q.C., LL.D., made the following citation:
It is not unusual, when presenting a graduand for an honorary degree, to recite the committees, boards, councils, and other bodies upon which he serves or has served. In the case of the Honourable R. C. Lee this would be otiose, in that on an occasion similar to this and only some two months ago, a catalogue of our graduand's occupations was made public. Fortunately, for this citation we were lent a scrapbook kept by him, with the fullest discretion to select and reject, so that other material is available.
His academic career began at Queen's College in this Colony, whence he went on to Pembroke College, Oxford, where his pre-occupations with the Honours School of Engineering Science did not preclude other activities such as the Presidency of the Central Union of Chinese Students of Great Britain and Ireland when he played host to such distinguished guests as the Honourable Bertrand Russell, as he then was, and the late H. G. Wells; the acceptance of countless invitations, social and otherwise, among them a probably costly one from that unpopular disciplinary officer and extractor of fines, the junior proctor of the university; lawn tennis, hockey, and golf; rowing in his college 'scratch fours', evidence of an ambition to earn a rowing blue which alas, though his stay at the university was during one of Oxford's worst patches on the river, was not fulfilled. The aforesaid discretion, obviously to be wisely exercised, called for the rejection of much that was of interest, the recounting of which would better suit some other time and place. To return to Hong Kong: his more salient activities have included representing the Colony at economic commissions in Australia and Singapore, and in matters of trade in West Africa and West Germany; and membership of Legislative and Executive Councils, and of the Court and Council and Building and Finance Committees of this University. Our young sister University, showing a wise discrimination in granting honorary degrees, chose Mr. Lee as one of the few to be so honoured at its first congregation. It is not given to many to be 'capped' by two universities within a period of weeks. This distinction, Mr. Chancellor, you will be according to Mr. Lee by acceding to our request that you confer upon him the degree of Doctor of Laws honoris causa.