Main content start
The Hon William Charles Goddard KNOWLES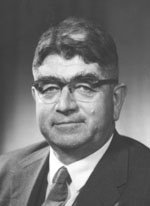 The Hon William Charles Goddard KNOWLES
Doctor of Laws
honoris causa
Dr William Charles Goddard Knowles, formerly Treasurer of the University, assumed the office of Vice-Chancellor on November 19, 1964, in succession to Sir Lindsay Ride, who left the University on leave preparatory to his retirement in January 1965. Dr Knowles retired from his post as Manager of Butterfield and Swire at the end of September 1964 and accepted the invitation of the University Council to take up duty temporarily as Vice-Chancellor until June 30, 1965, when it is hoped that a permanent appointment to the office will, have been made. Dr Knowles was born on January 12, 1908, in Bombay and educated at Christ's Hospital, Sussex, and Trinity College, Cambridge. From 1929 to 1939 he served with Butterfield and Swire and its parent company in London, Yangtze ports, Hong Kong, Tientsin, and Shanghai. He was in the Army during World War II. In June 1946 he resumed service with Butterfield and Swire in Shanghai, and worked there until the end of 1947, when he came to Hong Kong. He was appointed Manager of the Company in 1957. In addition to being head of Butterfield and Swire, which has many years close association with the University, Dr Knowles had been Chairman of its associated companies Taikoo Dockyard and Engineering Co Ltd, Taikoo, Sugar Refining Co Ltd, Duro Paint Manufacturing Co Ltd, Swire and MacLaine, Ltd, Cathay Pacific Airways Ltd and the Hong Kong Aircraft Engineering Co Ltd. He was also a Director and latterly Chairman of the Hongkong and Shanghai Banking Corporation and a Director of the Hong Kong Land Investment and Agency Co Ltd and the Union Insurance Society of Canton. He served on the Committee of the Hong Kong General Chamber of Commerce for two years as Chairman, and was also Chairman of the Hong Kong Tourist Association.
An Unofficial Justice of the Peace, Dr Knowles has served on the Legislative Council and is an Unofficial Member of the Executive Council of Hong Kong. He began to serve the University as a member of Court and Council in 1958, and was appointed Treasurer of the University in January 1962.
In recognition of his distinguished services to the Colony and to the University the honorary degree of Doctor of Laws honoris causa was conferred on him at the University's Sixty Second Congregation held on October 28, 1964.
In the recent New Year's Honours List, the award to him of the Commander of the Order of the British Empire (CBE) was announced, for public service in Hong Kong.
Citation written and delivered by Dr Leo D'Almada E Castro, CBE, QC, LLD, the Public Orator of the University.