Main content start
TENG Pin Hui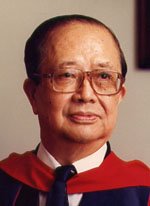 TENG Pin Hui
Doctor of Laws
honoris causa
In 1937, a newly qualified doctor went out into the world from the Faculty of Medicine of the University and embarked upon a lifetime of public service. Teng Pin Hui had not been intended by his family for a career in medicine but, once having conceived this as his goal, he insisted on coming to Hong Kong from Singapore and gained entry to the University. From the time of his qualification until the present, Mr Chancellor, Dr Teng has remained in the public service and has devoted his professional life to the improvement and sustenance of the medical services on which we depend.
At the end of the last War, the population of Hong Kong stood at some 600,000 and the civil administration struggled to restore the place to its previous equilibrium. But successive crises invested the Government: within a few years, the population had climbed to about 2,000,000 or a third above its pre-war level and the colony had extreme difficulty in coping with the enormous population growth and its attendant public health hazards. Houses were grossly overcrowded, squatter huts sprang up on the hillsides, many unfortunates slept on the pavements and even more suffered from malnutrition, from illness and inadequate medical care. Further population growth and other developments have further tested Hong Kong yet. I paint a gloomy picture only to remind this Congregation of the spectacular fashion in which this Government has met and solved so many of these problems. As an administrator in contact with those problems during the whole of his professional life, Dr Teng may look back with satisfaction on the achievements of our Government.
Dr Teng can claim a large and rightful share of the praise for this story. Many imperfections remain and much work is still to be done but one can see in Dr Teng's philosophy an approach which will continue to be of great utility to future generations of doctors in the public service. In his early years in plague prevention in China, he had learnt the meaning and importance of preventative medicine and, in the seven years he spent as Hong Kong's Port Health Officer, he was able to put this into practice. If one factor more than any other has been responsible for the improvement of public health in Hong Kong it is the amelioration and, where feasible, eradication of those conditions in which so many of the dreaded diseases of the past were able to multiply so readily. The incidence of diseases with names the sound of which repel us has dropped spectacularly and has made Hong Kong the envy of many. But let us not take the present situation for granted – it is the result of hard work and dedication of a man like Dr Teng.
Equally important, or perhaps more so, has been the provision of medical services by the Government and with their assistance and advice. During the last twenty years, the number of hospital beds per thousand population has almost doubled and in 1955, when Dr Teng became Deputy Director of Medical and Health Services, there were just two hundred Government medical officers whereas today there are over five hundred and fifty. Not enough maybe, but we have progressed considerably and, in the ten years in which Dr Teng has filled the office of Director of Medical and Health Services, we can extract from the statistics a continuing story of improvement. But this is not merely a matter of figures for it is also a human story of Dr Teng's endeavour and achievement.
In requesting you to confer an honour upon Mr Teng, we ask you, Mr Chancellor, to honour and member of this University. Dr Teng has, since 1959, given valuable services to this University as Professor of Preventive Medicine. It is a rewarding occasion indeed when a University can honour one of its own alumni and doubly so when the particular graduand is one to whom we, as a community, owe also a debt of gratitude. Mr Chancellor, I respectfully request you to confer on Dr Teng Pin Hui the Honorary Degree of Doctor of Laws.
Citation written and delivered by Professor Dafydd Meurig Emrys Evans, LLB, BCL, the Public Orator of the University.