開始內容
余宇康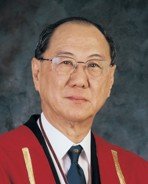 Our final honorary graduand this evening is Professor Richard Yu Yue Hong, another most illustrious alumnus of this University who comes from a family of illustrious alumni. His father, who lived to the ripe old age of 102, graduated from our Medical School in 1929. He and his wife raised four sons all of whom followed in their father's footsteps becoming doctors. Richard was the second son and graduated form HKU with an MBBS degree in 1958. With disarming frankness Richard revealed to me that he failed in Medicine in his final examinations, only passing at a second attempt. He says that this upsetting experience, far from deterring him in his career, incited him to work even harder to show to himself and the world that he was as good as, if not better than, his fellow students. Looking back on his time as a student, he says that the guidance and example that he received from his teachers such as Professor McFazean, of whom all students were in awe, Gerald Choa, who was a rather stern but impressive figure, and David Todd, a lifelong friend, stimulated his interest, not only in medicine, but also in the arts, and convinced him that life was full of challenges and had to be lived to the full.
He completed his clinical training at Queen Mary Hospital and then, encouraged by Gerald Choa, took the unusual step of undertaking postgraduate research at the University College Hospital in London, from which he obtained his doctorate in 1966. Returning to Hong Kong he entered upon an academic career in our Faculty of Medicine and his research on blood pressure in patients with renal failure or following renal transplants led to the award to him of an MD degree by this University in 1972.
In 1973 Richard, burning with a desire to introduce improvements in medical care, decided to enter private practice, although he continued to teach at HKU as an Honorary Clinical Lecturer and subsequently as an Honorary Clinical Associate Professor.
As a medical practitioner Richard specialised in nephrology and made enormous improvements both in respect of patient care and in the provision of medical treatment. But perhaps his greatest contribution has been by way of public service to the medical profession. Again he attributes his desire to better the profession and its delivery of service to the community to the early training and professional standards set by his teachers. In 1985, with the change of sovereignty on the horizon, Richard joined distinguished colleagues who included Professors David Todd, T K Chan, Gerald Choa and Dr E K Yeoh to found the Hong Kong College of Physicians, which was to assume responsibility for medical education and training in Hong Kong. He was the Founding Honorary Secretary of the College from 1986 until 1995, its Vice-President for Education from 1993 until 1995 and then its President from 1998 until 2004. During this time he was very much involved in ensuring that our qualifications were recognised overseas and that the close links that had been forged between our profession and those in the United Kingdom and Australia were maintained and indeed further strengthened. He also oversaw the development of comprehensive training courses and fair and transparent accreditation procedures. At present he is the Chairman of the Higher Physician Training Committee, leading a revision exercise to implement changes in the annual and exit Examination for Higher Physician Trainees.
Another major contribution to public service has been Richard's involvement in ensuring that proper compensation is paid to pneumoconiosis sufferers. With the support and encouragement of our Council Chairman, Dr C H Leong, he served for ten years on the Pneumoconiosis Board, acting as Chairman of the Rehabilitation Committee for the last five years of that period and several important improvements can be attributed to his efforts. First, the digging of caisons by hand was outlawed, this being a major cause of pneumoconiosis in Hong Kong. Secondly, he was instrumental in bringing about an amendment to the law introducing an improved system of compensation whereby sufferers received compensation, not by way of a one-off payment, but payable throughout the period of continued suffering. Thirdly, he developed rehabilitation facilities for 2,000 sufferers so that they could receive consistent and one-stop treatment at three Hong Kong hospitals, Ruttonjee Hospital, Shatin Hospital and Haven of Hope Hospital, where excellent respiratory rehabilitation services are now provided.
For his signal contribution to healthcare and public service Richard has received a host of accolades. He is a Fellow of the College of Physicians in Hong Kong, the Royal Colleges of Physicians in UK and Australia and of the Academies of Medicine of Hong Kong and Singapore. He served as a member of the Hospital Governing Committee of the Ruttonjee and Tang Shiu Kin Hospitals from 1992 until 2002 and the Queen Mary and Tsan Yuk Hospitals since 2003.
Despite his onerous public duties Richard never neglected his alma mater. He himself donated an Endowed Professorship (the Yu Professorship in Nephrology) and has been instrumental in arranging two more Endowed Professorships, one in honour of his father. He is currently an Honorary Professor in the Department of Medicine at HKU and of the Department of Medicine and Therapeutics at the Chinese University of Hong Kong.
Just as the Hong Kong College of Physicians continues to benefit from Richard's wise counsel, so indeed does Hong Kong society as a whole as he persists in his lifelong quest to raise the quality of medical education, hospital services and the medical sector overall. When asked about his philosophy of life, Richard replied that he has always been driven by challenges, usually self-imposed. First there was the academic challenge, then the professional challenge and finally the challenge of public service. He says that his success in meeting these challenges can be traced back to his failing that one segment of his examinations back in 1958. We should all be grateful that he failed that examination.
Mr Chancellor, it is my honour and privilege to present to you Professor Richard Yu Yue Hong for the degree of Doctor of Social Sciences honoris causa.
Citation written and delivered by Professor Michael Wilkinson, the Public Orator of the University.