開始內容
胡文瀚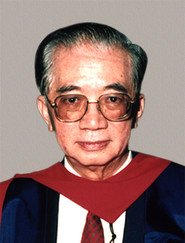 'Jimmy Wu has many good ideas except they do not agree with mine.'
That was a remark by a senior civil servant in the 1970s who thought James Wu Man Hon was an idealist. This same idealist, who championed the establishment of industrial parks, the need for technology transfer and the importance of applied research and product development, must have been proud that many of his 'dreams' are gradually coming true.
James Wu Man Hon has gone a long way since his pioneering days attending to his father's taxi business and establishing Weatherite Industries. His engineering education at the University of Hong Kong and Zhongshan University laid a solid foundation for innovative enterprises in engineering, education and industry. His achievements were recognised by the Government in the 1960s and 1970s when he served on the Urban Council, the Legislative Council, the Trade Development Council, the Vocational Training Council and the Productivity Council. He impressed on the Government the importance of providing the requisite infrastructural support for the development of vast industrial estates. To Jimmy, good factory and product design and processing and quality assurance are all essential. As Chairman of the Federation of Hong Kong Industries, he alerted the community in the 1970s to the need for diversification and sophistication in our manufacturing industries as economic interdependence between China and Hong Kong grew. In a territory where there was a dearth of financial support for research and development in technology, James Wu was able to attract massive Japanese participation in technology transfer in the field of high-precision tooling for electronics components when he served as Chairman of the Industrial Development Committee of the Hong Kong-Japan Business Co-operation Committee. International recognition of his work includes Permanent Membership of the American Society of Heating, Refrigerating and Air Conditioning Engineers in 1987 and Honorary Citizenship of Guangzhou in 1991.
James Wu's staunch belief in human capital investment led to two decades of total devotion to the development of the Hong Kong Polytechnic when he served as Deputy Chairman. His insistence on interviewing every single candidate for teaching posts must have cost him dearly as he was expected to be making money for his family business. Support for engineering education is one of his priorities and three engineering departments benefited from funding for the purchase of equipment. Jimmy Wu was made Officer of the Most Excellent Order of the British Empire in 1974. Likewise, the Hong Kong Polytechnic acknowledged his devotion in 1991 by conferring on him an Honorary Doctorate in Engineering.
In the same way that the Hong Kong community has benefited from his valuable input, so has the Wu family from his entrepreneurial skills. Hopewell Holdings under his chairmanship has grown into a giant in capital construction and land development, providing infrastructural support for a future megalopolis in South China and for Thailand and the Philippines. As some one well exposed to the Confucian classics, the following from the Book of Great Learning will be appreciated by our graduand:
'The superior man learns in order to reach the utmost of his principles. He may not be without foresight and vigorous endurance. His burden is heavy and his course is long.'
Mr Chancellor, in honouring our student of 1940, the University acknowledges not only his contribution to industry and education but also his vision for a better Hong Kong. It is therefore my privilege to present to you James Wu Man Hon for the award of the Degree of Doctor of Laws, Honoris Causa.
Citation written and delivered by Professor Lee Ngok, the Public Orator.