開始內容
程文輝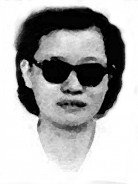 Born in Guangzhou of a well-to-do family, Lucy Ching Man Fai was blind when she was six months old. She did not realise that she could not see until the age of five. But her close companion and maid, Ah Wor, set the record straight by saying: "You can see too, but in a different way. You see with your hands". Lucy Ching was brought up in traditional China which was beset with prejudices and superstitions. Having a handicapped child was regarded as punishment from heaven and a disgrace to the family. Life was to say the least not easy for Lucy. We understand a great deal about young Lucy through her book One of the Lucky Ones, which appeared in many editions, including braille, since its first publication in 1980. She was very much a part of the family of six children who observed all the traditions and practices of a Confucian society. In the midst of all these, she fought her own battle in the world of the sightless. With sheer determination and genuine thirst for knowledge, she managed to attend regular classes without braille books or other aids for a long time and did well. She attributed her achievements to faith in God and the unfailing support she received from Ah Wor. In One of the Lucky Ones, she wrote:
"I have had three...milestones - three moments at which I suddenly knew not only that I would go on coping with my problems, but why. The first was...the arrival of the braille material; the second was when I became a Christian; the third was my meeting with a blind beggar girl..."
With sheer doggedness, Lucy Ching found a way to learn English Braille and then Cantonese Braille. This meant struggling a great deal with handframes and styli and receiving assistance from the John Milton Society. It was a marvel that she graduated from high school without having to go to special classes; but it also meant the need to burn the midnight oil - books had to be read to her and homework had to be done the usual way. There was then the laborious process of brailling lessons and typing assignments. All that was done and she graduated from the Diocesan Girls' School in 1954.
From then on, it was new horizons in the brave new world. Lucy Ching was given a scholarship and received specialist training at the Perkins Institute for the Blind in Boston from 1954 to 1956. She then went on to study Church music at the South Western Baptist Theological Seminary in Texas from 1957 to 1959.
In 1959, Lucy Ching chose to fulfil a promise to herself - helping the handicapped in Hong Kong to help themselves as well as fighting ingrained prejudices in both the sighted and the blind. The mission was made possible when the Social Welfare Department took a major leap forward in employing the first blind social worker. Lucy Ching takes pride in having been able to change the attitude of the parents of the blind and the blind themselves, convincing them that good education is the vehicle for recognition by society. She remembers many a bucket of cold water poured over her and her companion as she went about trying to educate hostile parents. Lucy Ching also set the example that the handicapped could work sideby side with other sighted professionals. On receiving further training on the Social Administration Officers' course at the Royal Commonwealth Society from 1965 to 1966, she rose through the ranks and was given greater responsibilities as one of the rehabilitation officers. In recognition of her contribution to work for the blind in particular, and rehabilitation work for the handicapped and the elderly in general, Lucy Ching was made Member of the Most Excellent Order of the British Empire (MBE) in 1975.
Her career covered thirty long years of sterling service which witnessed not only personal satisfaction but also improvements in help for the handicapped. As a devoted Christian, Lucy Ching has a positive outlook on life and believes in making the best of life. To her, it is fulfilling to be able to help the blind and the handicapped in whatever way she can. She values as much the ability of ordinary blind persons who manage to stand on their own feet as the attainment of a few gifted ones who are lucky enough to graduate from Universities.
For many years, Lucy Ching excelled in giving personal counselling to the blind and the handicapped. It was encouragement and aspiration for them to be counselled by someone who could not see but who could provide relevant and professional advice. This applied especially to adults who became blind and found it difficult to adjust to a hostile environment.
From a humble beginning of providing basic handicraft training and shelter support in the late 1950s, the Social Welfare Department has established a modern programme for the blind and the handicapped. In addition to her counselling skills, Lucy's expertise included the teaching of braille and establishing international links. The former provided the essential means to enable the blind "to see" with their hands and the latter kept Hong Kong in touch with state-of-the-art services for the blind. In 1964, the blind community managed to organise itself into a voluntary self-help body to speak for itself and Lucy stood out as the figure of inspiration. The Association of the Blind now has its own premises and its Education and Resources Centre promotes the concept of an integrated education program which enrols blind students in the regular school stream. Again, Lucy's own schooling experience set the good example that handicapped people can do as well as the non-handicapped. The Association pays tribute to her in the same way that Helen Keller wrote about her teacher, Ann Mansfield Sullivan (and I quote):
"The certainty that her creative intelligence and truly human quality of mind do not perish, but continue their vivifying work, sweetens my loneliness and is like the warm spring air in my heart".
In the last stage of her career, Lucy Ching was appointed as a Social Work Officer whose job was to take care of, not only the blind, but also the handicapped and the elderly. It came as a challenge as she needed to prove that a blind person could assume a supervisory role, including close liaison with other voluntary agencies. Against many odds, Lucy more than proved herself to be a competent supervisor. She takes pride in being able to extend her work to the elderly and the mentally handicapped and feels personally satisfied that family reconciliations actually resulted from her persuasive power. She truly believes that the blind can integrate well into the society to which they belong are can adopt a positive attitude toward life. We are beginning to see the fruits of such perseverance as the civil service continues to recruit qualified blind administrators at senior level. It comes as no surprise that Lucy's last position as Social Work Officer is now filled by someone who is only partially sighted.
In her recent letter to the Vice-Chancellor, she wrote:
"I have the greatest regard for your University as it has taken the courageous step to accept blind and visually handicapped students to enable them to pursue their highest goal in education. I would like very much to return to Hong Kong to receive the degree in person and be present on other occasions. However, due to the ill-health of my eighty-nine year old companion who has literally given her life to me, I cannot leave her in case of any emergency in my absence. It was the most difficult decision to make that I would give up this wonderful opportunity of returning to Hong Kong, but this is just a small price I must pay for her on account of all that she has done for me".
In accepting the University's nomination for the award of an honorary degree, she wishes to deliver the following message to this congregation:
"It will not only be my personal honour and glory, it will also serve as a great encouragement, incentive and motivation to all the handicapped people, particularly the visually impaired in Hong Kong. They will be even more aware that the opportunity to make the best of life is held out, if they would work hard for it".
Mr Chancellor, I commend to you Lucy Ching Man Fai, who has done so much for the handicapped and the elderly, and especially for the blind in Hong Kong during her lustrous career. Ching Gu Neung or Ms Ching, is not only a household name, but also a spiritual support for those who need help because they are either physically or mentally handicapped. It is my privilege and honour to present to you Lucy Ching Man Fai in absentia for the award of the Degree of Doctor of Social Science honoris causa.
Citation written and delivered by Professor Lee Ngok, the Public Orator.